Newspaper review: Papers voice fears over Korea tension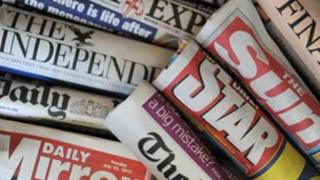 The Times and the Guardian have photographs of smoke rising from the South Korean island of Yeonpyeong after the bombardment by North Korea.
For the Independent, the divided Korean peninsula appeared to be teetering on the brink of all-out war on Tuesday.
The Daily Mail sums up the situation with the headline "Korea on the brink".
The Daily Mirror also adopts stark language, talking of the world holding its breath as the South Koreans threaten revenge.
Bank move
The Financial Times reports that the Irish government is planning to take a majority stake in the Bank of Ireland.
This, it says, will leave the country without a single significant lender independent of state control.
The paper says that while government officials are keen to avoid full nationalisation, Dublin will end up with a large stake in the bank.
The Daily Telegraph reports that David Cameron has warned of the potential of an influx of Irish migrants to the UK.
Wedding ballot
There is much excitement about the announcement that the royal wedding will be on 29 April.
The Daily Mail tells how Prince William plans to pack Westminster Abbey with children, volunteers and the homeless.
The Sun thinks there will be a draw with about 100 lucky members of the public invited to the wedding.
The Daily Express predicts the wedding will start a four-day celebration - the Friday wedding bank holiday followed by the May Day holiday on the Monday.
Gloves off
The sports writers are counting down the hours to the start of the Ashes in Brisbane at midnight on Wednesday.
Forget the preliminaries, says the Guardian, now the gloves come off at a ground where Australia's cricketers have not lost in 22 years.
Writing in the Financial Times, former Wisden editor Matthew Engel feels it is the most enduring and evocative bilateral contest in sport.
A bullish Daily Mail believes England's class will tell in the series.