UK terror threat at three-year high, warns police chief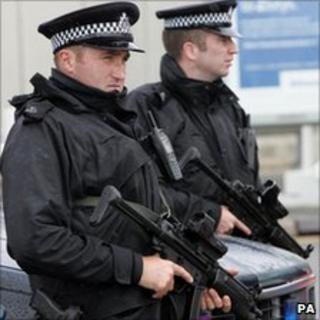 The threat of terrorism in the UK is at its most dangerous level for three years, Metropolitan Police Commissioner Sir Paul Stephenson has warned.
He said terrorism remained a persistent and enduring tactic that was "global, diverse and sometimes unpredictable".
There had been a "dangerous resurgence" in the threat from Republican groups, he told security experts in London.
And people must also be alert to right-wing extremism as well as the broader threat from al-Qaeda, he added.
'No complacency'
Speaking at the Royal United Services Institute, Sir Paul said: "This is undoubtedly as dangerous a time as we have seen for the UK, and UK interests abroad, since the attempted attacks on the Tiger-Tiger nightclub in London and Glasgow airport in 2007.
"There can be no complacency."
The commissioner said previous chief police officers had "strayed inadvertently and perhaps unintentionally" into the debate around counter-terrorism powers but added he would leave that task to politicians.
He said police should "inform the debate" about control orders, use of stop-and-search powers, pre-charge detention and DNA retention but suggested it was not his role to interfere in the decision-making process.
"I respect those that have to make these difficult decisions and I am clear about one thing - this is difficult territory," he said.
"These are fine judgements and there are no black and white answers, no absolutes - only shades of grey."