Gay hate 'alive and, sometimes, kicking'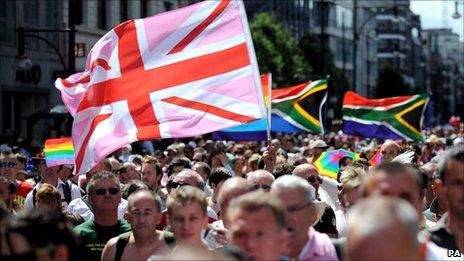 A young woman and man have been found guilty of beating a gay man to death in London's Trafalgar Square - a brutal reminder that despite steps towards equality, homophobic violence remains a very real threat.
The killing of a 62-year-old civil servant has cast another shadow over the gay community as it is again forced to confront the consequences of prejudice.
Ian Baynham, of Beckenham in Kent, was out with a friend celebrating his new Home Office job on 25 September last year when teenager Ruby Thomas screamed homophobic abuse at him.
After a row moments later, Joel Alexander knocked him unconscious with a single punch, fracturing his skull on the ground.
Thomas and another girl then "put the boot in" as he lay there, the trial heard. He died 18 days later having suffered brain damage.
Thomas, 18, and Alexander, 20, were both convicted of manslaughter in a re-trial at the Old Bailey.
For one mother, the Baynham case has stirred painful memories.
Sheri Dobrowski's son Jody, 24, was punched and kicked to death by two men on London's Clapham Common in 2005. His injuries were so bad, he had to be identified by his fingerprints.
The judge, who jailed his attackers for life with a minimum of 28 years to be served, said their only intention was "homophobic thuggery".
Ms Dobrowski, from near Stroud, Gloucestershire, said: "Ian Baynham died just as we were steeling ourselves for the fourth anniversary [of Jody's death].
"The timing was so poignant for us. Our hearts go out to the Baynhams. Until the trial is over you can't begin the process of grieving properly."
She said she had felt so much hurt that nothing could hurt her as badly.
"It's horrible to see it's still going on, you hope yours is the last one... it's a horrible feeling because you know exactly what's going to happen to that family," she said.
"Ian and Jody's are extreme cases, but it's also on a daily basis that gay men in particular have several kinds of verbal and physical abuse. Damage is damage. Sometimes it takes extreme cases to highlight that."
The former care worker said although it felt like things had got worse, there had been a rise in understanding.
She said: "Jody was such a positive person, I have to hang on to the positives. It [gay-hate crime] may be on the increase, but some of that may be about people reporting it more, and I hope that's real."
The attack on Mr Baynham is far from isolated.
In August, a gay barman in Leeds was knocked unconscious after two men confronted him about his sexuality two days before the city's Gay Pride event.
Dane Holdsworth, 21, said he was punched, bitten, strangled and kicked after his attackers saw him wearing a rainbow coloured wristband - a symbol of gay pride.
In Liverpool last October, Pc James Parkes, 22, was brutally beaten outside a gay bar because of his sexuality, leaving him with multiple skull fractures and a broken cheekbone and eye socket.
The Association of Chief Police Officers (Acpo) says it believes recorded hate crimes, including homophobic cases, are on the rise, although national figures were only published for the first time last month.
Police forces in England, Wales and Northern Ireland recorded 4,805 gay hate attacks last year - more than a quarter of which were in London.
Metropolitan Police figures, meanwhile, show reported gay-hate crimes in the English capital have remained fairly static over the past year.
There were 1,288 cases in the 12 months to October - just 13 fewer (1%) than the same period in 2009.
But a YouGov survey for campaign group Stonewall suggests about one in eight lesbian and gay people a year may be victims of homophobic hate crimes and incidents.
The Crown Prosecution Service says of the 1,013 gay-hate cases brought to court last year, 683 resulted in a guilty plea, and another 130 were convicted after standing trial - a total conviction rate of 80%.
The figures also showed almost one in five cases had to be abandoned before they got to court because the victims refused to give evidence, retracted it, or failed to turn up.
Campaigners say the true scale of the problem for Britain's estimated 3.6 million lesbian and gay people is far greater than any figures suggest.
The CPS said, where necessary, courts can provide special measures such as screens or a videolink to make giving evidence easier for vulnerable or intimidated victims and witnesses.
Seasoned campaigner Peter Tatchell, whose gay rights group Outrage! marked its 20th anniversary early this year, said homophobic attitudes were "alive and, sometimes, kicking".
He said: "As more gay people come out and become visible, they present more targets for the violent homophobic minority who want to harm them."
The police had also become much more sympathetic, giving victims more confidence to come forward, he added.
Debbie Baird, 32, a civil servant from Edinburgh, was caught up in a homophobic attack in the city as she walked home from a club with her girlfriend and two "straight" friends.
She said a young man shouted insults at them from the opposite side of the street then came forward and lunged for her.
"My friend tried to calm him down to go on his way and move on, then he headbutted her in the face twice, and gave her a black eye," she said.
He was found guilty in court, given a community service sentence and fined.
Ms Baird, who spent less time on the gay scene after the incident, said she had been verbally abused on a regular basis.
"People need to know it's not acceptable, it can make some people stay indoors for years. They think it's harmless banter... but the insults can affect people very deeply," she said.
In October, hundreds of people took part in a "no to hate crime" vigil in London's Trafalgar Square, near the scene of the attack on Ian Baynham.
Amongst the speakers were Stuart Milk, the nephew of late US gay rights activist Harvey Milk.
A Lesbian and Gay Foundation spokesperson said: "Many of us live our lives in secret, not publicly acknowledging our sexual orientation for fear of reprisal, ridicule or attack."
Stonewall agrees. It says a third of lesbian and gay people change their behaviour so they are not perceived as being gay, specifically to prevent attacks.
The group says that includes not showing affection in public, dressing differently from the way they would choose to, and avoiding well-known "gay" areas.
Related Internet Links
The BBC is not responsible for the content of external sites.