7 July inquests: Police tell of body retrieval delays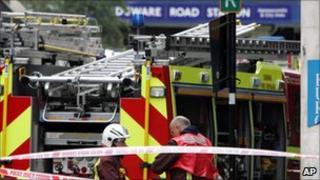 The policeman in charge of the 7/7 bomb site at London's Edgware Road has told an inquest a series of problems held up the retrieval of bodies.
Families of four of the victims have complained their bodies were left underground for too long.
But Det Con Malcolm Wilson said his team were delayed by tunnel safety checks, a gas leak threat and a doctor having to pronounce the victims dead.
Fifty-two people were killed in 2005 by suicide bombers on Tubes and a bus.
Barrister Caoilfhionn Gallagher said she was speaking on behalf of the families of Michael Brewster, 52, Jonathan Downey, 34, David Foulkes, 22, and Colin Morley, 52, when she complained about the delay.
She acknowledged the issue was not within the inquest's remit, but said one family was left without a police family liaison officer.
She added that not enough information was given out and one set of relatives had to read details about their loved one's death in a Sunday newspaper.
A letter would be sent to the Metropolitan Police as there were "a very large number of unanswered questions", she said.
Det Con Wilson, of Scotland Yard's anti-terrorist branch, told the hearing he entered the tunnel at 1145 BST, nearly three hours after the bomb was detonated.
He said he had been forced to consult a structural engineer after London Underground warned him about beams in the old tunnel's roof.
And it took "considerable hours" to get the equipment into the tunnel, he said.
Studs and screws
One of the first decisions made was to remove the body of 24-year-old Jennifer Nicholson from the tracks, Det Con Wilson said.
Afterwards, asbestos tests were carried out and the station was evacuated because of a possible gas leak, he added.
It was not until 0230 BST on 8 July after a doctor had pronounced the other victims dead that the scene was closed. Their bodies were removed on 9 July.
In the following days, searches were made of the wrecked carriages and tracks, the court heard.
A Visa credit card, Halifax debit card, Leeds City Council permit and an insurance card - all belonging to suicide bomber Mohammed Sidique Khan - were found.
The inquest also heard details from a pathologist's report which stated that Khan's "facial skeleton was absent" and pieces of wire and metal, including studs and screws, were removed from his body.