Newspaper review: Student protests dominate front pages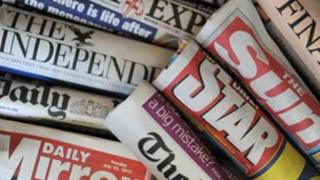 A second day of major protests against the raising of university tuition fees dominates a number of front pages.
The Guardian says tens of thousands of pupils and students walked out of class, marched and occupied buildings across the UK.
The Daily Mail's headline is "rage of the girl rioters".
The paper reports that Britain's students took to the streets again - with women leading the charge.
Political comeback
The Financial Times reports that David Cameron wants Liberal Democrat David Laws back in his cabinet - "and soon".
Mr Laws resigned as Chief Secretary to the Treasury less than three weeks after being appointed because of an expenses scandal.
The Daily Telegraph broke the story that led to Mr Laws quitting.
It says the PM's unequivocal backing for one of the architects of the coalition will fuel speculation that a new year reshuffle is planned.
Estate losses
The Sun reports comments by Met chief Sir Paul Stephenson that the terror threat is the highest since 2007.
It says the Met restored its reputation on Wednesday with "excellent handling" of the student protest in London.
The Daily Express has news that the historic Longleat Estate has sacked all its workers who are aged over 65.
It quotes a spokesman for Longleat who denies this is to avoid a law change making it unlawful to force anyone to retire simply because they reach 65.
Cash windfall
The Times has the sad story of a decidedly unhappy 68-year-old panel beater from Southend in Essex.
The man, who did not want to be named, lost £80,000 life savings after driving with the cash in plastic bags on the roof of his car when he went to work.
He had kept the money under his bed for many years and hid it in his car after his guard dog died.
The Daily Telegraph reports that police could only treat the incident as lost property as there had been no crime.