Venues for London 2012 Olympics 'built for security'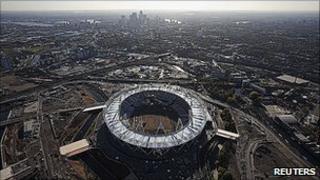 Security has been built into the venues for the London 2012 Olympics, a minister has told safety experts.
Security Minister Baroness Neville-Jones said: "Designing in security has actually been an important part of the approach that we have taken."
She said: "Techniques have been developed in this area which will be valuable in the future."
Suicide bombers killed 52 people in London the day after the capital won the right to host the Games.
The Olympics organisers are acutely aware of the threat and will be introducing rigorous security measures.
Lady Neville-Jones, a former Chief of the Joint Intelligence Committee, said: "We are learning how to build buildings in a more secure way."
She said a series of national exercises to test security procedures would take place in the run-up to 2012.
Lady Neville-Jones told a security conference there was also a threat of cyber terrorism and she said Beijing suffered 12 million cyber attacks a day in 2008.
"The Games unavoidably are an attractive cyber target. What we have got to ensure is that it is not extraordinarily a soft target," she said.
Chris Allison, the Metropolitan Police's Assistant Commissioner for the Olympics, said: "We are working on the basis that security will be severe but also looking to see what we would do if it moved to critical."