London 2012 Olympics housing legacy: Kelly Tapping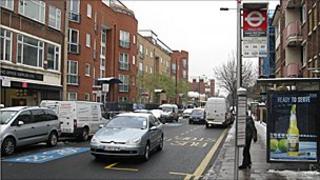 I've lived in East London all my life. I don't know anything different.
My journey to work in Waltham Forest from where I live in Poplar, takes me past the Olympic development.
It's a very inspiring place. Every morning I think about how much I'd like to live there in the future.
A few weeks ago, one of my cousins told me about the residential housing being planned, and in the space of 24 hours I'd made enquiries to a housing group.
Initially, I thought the 2012 development would be something for people with money, so didn't look into it - but reading more about it, has got me really interested.
I'm a single mum, with an 11-year-old child, so I tried to be positive and think how it could benefit us.
I don't like where we currently live. The area we moved from was quiet and green - now, we live on a main road; it's busy and loud, something I'm not used to.
It's a very built up area and everywhere you look, if there's land, someone's building on it.
A lot of things have changed in the East End through my lifetime. You definitely see fewer high rise flats being built now - but there are certainly a lot more housing developments than there used to be.
Family-friendly
The amount of homes which are planned to be built as part of the 2012 development did surprise me. I didn't think it would be as many as 11,000. It's like a whole new world they're building.
I would just love to be part of that community. I think it will have a nice family feel, a friendly place where kids could play out together - you don't see often see that where I live now. That's why I think the plans should be based around families and child-friendliness.
I imagine a lot of families will end up living there and it's great that the plan is to have 40% of the housing as family sized accommodation. I'm all for that.
I also like the thought that everything will be under one roof, from where I've lived before, that creates a real sense of community.
The only negative I can think of is that it might be a noisy place to live. I'm thinking the area might be quite active and that's not my thing.
Also, I don't know how secure it will be, but I guess there will be lots of CCTV cameras. I would like to think it's going to be safe.
Oversubscribed
There is bound to be a lot of people interested in the development, which makes me think that having only 35% as 'affordable properties' isn't that much.
I expect applications to live there could be quite competitive and over-subscribed.
I don't know if I'd be able to afford to live there but, if I could, I would use a part-buy part-rent scheme. The climate at the moment makes it so difficult to get on the ladder and to get where I want to be I would look to do that.
As a mother, it was encouraging to know that they are to build a school as part of the development. To me, that's important, as I need to think about the future.
It's all a bit like a dream scenario and maybe a bit far-fetched as an idea at the moment.
I can picture living there in my head, but whether it will be like that in reality I just don't know.