Severe weather warnings for snow and ice across UK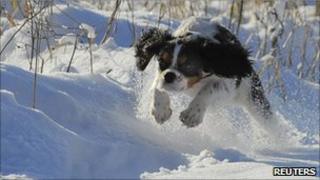 Severe weather warnings have been issued for much of the UK following a day of disruption to roads and schools.
Met Office warnings of heavy snow and icy roads are in place for most of Scotland - from Orkney to the Borders - on Friday evening into Saturday.
Severe conditions are also predicted for Wales, south-west and north-east England and the East Midlands.
Some weekend sporting events have been cancelled as forecasters say the early cold spell could last for two weeks.
It is the earliest widespread snowfall for 17 years.
The AA said it had been a "very busy day" with 1,220 call-outs every hour with Wales and the North East of England being the worst for breakdowns.
Snow has caused hazardous driving conditions on the M4 in south Wales with stop-start traffic for 22 miles westbound between the Second Severn Crossing and Cardiff.
Cardiff Airport has reopened after the runway was cleared of snow. Earlier flights were diverted, and further delays are possible.
The latest severe weather warnings for Scotland are for Orkney and Shetland, the Highlands and Grampian, Central, Tayside, Fife, south-west Scotland, Lothian and Borders.
A heavy snow prediction for south-west England has been issued until 0200 GMT on Saturday.
The snow warning in Wales remained until Friday evening and forecasters urged caution on icy roads until late on Saturday morning.
Further heavy snow and ice warnings have been added for eastern areas of England - the North East, Yorkshire and Humber, East Midlands, Norfolk and Suffolk.
There is also a warning of widespread icy roads for Northern Ireland, London and parts of south-east England on Friday evening into Saturday.
Difficult driving
Sub-zero temperatures were recorded across the UK overnight into Friday, far lower than those normally experienced in November.
Northern Scotland and north-east England were hardest hit by fresh snowfalls which also moved into South Wales and south-west England later in the day.
The coldest recorded temperature on Friday was in Carterhouse in the Scottish Borders, at -7.8C. Benson in Oxfordshire recorded -7.6C, Newcastle dropped to -4.3C, while the temperature at Kew Gardens in London sank to -3.8C.
The enhanced content on this page requires Javascript and Flash Player 9
Map Key
Land
Cloud
Lakes, Rivers & Sea
Fog
Light
Heavy
Frost
Light
Heavy
Pressure Fronts
Cold
Warm
Occluded
Rain
Light
Heavy
Extreme
Snow
Light
Heavy
Temperature tab only
Temperature (°C)
More details from BBC Weather
BBC weather forecaster Simon King said drivers should expect difficult conditions on Friday evening in south Wales, and parts of Devon, Somerset and Dorset.
On the M4 in south Wales there were reports of a 26-mile tailback in the evening rush hour westbound from the Severn Bridge toll booths to Miskin.
As the snow clears away to the south overnight there will be further snow showers up the eastern side of Britain and temperatures could drop to as low as -9C.
On Saturday more snow showers are forecast for eastern and northern Scotland and north-east England, and further falls are expected on Sunday with some flurries further south.
On Friday the severe weather disrupted schools in many areas, with more than 160 schools closed or partially closed in north-east Scotland, mostly in Aberdeenshire.
Schools in Northumberland, Tyne and Wear, East and North Yorkshire, and Wales were also affected.
Saturday's horse racing meeting at Newcastle has been cancelled, with Gosforth Park under 18cm of snow. The meeting at Towcester, Northamptonshire, has also been called off, while events at Carlisle and Leicester on Sunday are in doubt.
The weekend's FA Cup second round matches could also be at risk.
Rugby Union bosses have vowed that England's match against South Africa at Twickenham on Saturday will go ahead.
Travel incidents included a plane with 189 passengers overshooting the runway at Newcastle airport in icy conditions on Thursday night. No-one was injured but the airport was closed for a time.
The AA had attended nearly 12,000 weather-related breakdowns by Friday afternoon, it said. Aberdeenshire, the Newcastle area and North Yorkshire saw 70% increases in incidents on Friday morning.
Up to 15cm of snow blanketed parts of northern and north-east Scotland, and north-east England, on Thursday.
The unusual weather is being caused by high pressure over Greenland and low pressure in the Baltics, forcing cold winds from the north-east across Europe.