UK pledges aid to fight Haiti cholera epidemic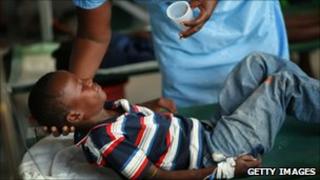 Britain is to fund more than 1,000 medical staff to set up treatment centres for victims of Haiti's worsening cholera epidemic.
Ministers confirmed the UK would pay for 115 doctors, 920 nurses and 740 support staff from the region, as well as emergency supplies.
The announcement comes after the UN warned 400,000 people could be infected by the disease in the next six months.
Cholera has killed 1,400 people since January's devastating earthquake.
'Crucial relief'
Around 220,000 were killed in the aftermath of the magnitude seven quake, and more than a million survivors moved into temporary camps in the capital, Port-au-Prince.
International Development Secretary Andrew Mitchell said the aid would help prevent the disease spreading across the region, bringing "crucial relief".
"Despite considerable pledges of support to help Haiti, there are still dangerous gaps in the provision of emergency medical supplies and a desperate shortage of trained medical staff, especially in the northern part of the country," he said.
"It is clear much more needs to be done. Analysis from the UN and our own field team reveals that the response needs to be significantly increased if we are to save thousands from the disease.
"We must stop the disease spreading further and trained medical teams and equipment funded by the British taxpayer will bring crucial relief to the devastated country."
The medical staff will set up 12 major cholera treatment centres and 60 subsidiary treatment units, capable of treating several thousand patients over the next two months.
Beyond Port-au-Prince, Haiti is suffering from a chronic lack of decent water, sanitation and medical supplies.
Cholera causes acute diarrhoea, and can be fatal if left untreated.