Arrests for football-related violence fall 10%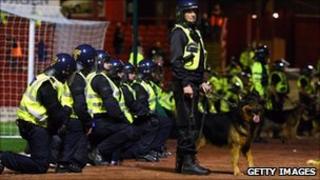 Football-related arrests fell by 10% last season, according to new Home Office figures.
There were 3,391 arrests involving fans in England and Wales in 2009/10, down 395 from the previous season.
The figures may prove useful to Prime Minister David Cameron who is lobbying Fifa executive committee members ahead of the World Cup decision.
Fifa will announce on Thursday who is to host the 2018 tournament with England up against Russia, Spain/Portugal and Belgium/Netherlands.
There were no arrests at 70% of games and no English or Welsh fans were arrested for disorder at the World Cup in South Africa, compared with 950 who were expelled from Belgium in a single 24-hour period during Euro 2000.
The police also found that 92% of those they assessed, whose football banning orders have expired since 2000, no longer pose a risk of football disorder.
Crime Prevention Minister James Brokenshire said there was no room for complacency: "Police will continue to work with fans and use all the tools at their disposal to ensure that we continue setting a benchmark for the world."
The Premier League club with the most football banning orders in place is Newcastle United (105) followed by West Ham (91) and Wolves (86).
Leeds United were top of the league of shame in the Championship with 152 banning orders, followed by Cardiff City (125) and Millwall (100).
Yeovil Town in League One, Accrington Stanley and Stevenage in League Two were the only clubs without banning orders.
Mr Cameron will be joined in Zurich by a 30-strong bid delegation including Prince William, London Mayor Boris Johnson, England manager Fabio Capello and football stars David Beckham, Sir Bobby Charlton, Gary Lineker and Alan Shearer.