UK infantry ban on women soldiers remains, MoD rules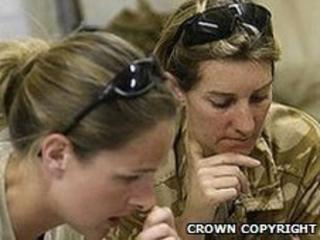 Women are to remain barred from close-combat roles in the UK armed forces.
They currently support front-line operations in logistics, artillery and engineering teams but are banned from the infantry or tactical combat teams.
A Ministry of Defence review said there was no doubt women were "physically and psychologically" capable of the job.
But it concluded the effects of "gender-mixing" on team cohesion were unknown and could have "far-reaching and grave consequences".
Defence Personnel Minister Andrew Robathan said: "Women are fundamental to the operational effectiveness of Britain's armed forces, bringing talent and skills across the board.
"Their capability is not in doubt; they win the highest decorations for valour and demonstrate independence and initiative."
But he said the findings of the review into whether they should be required to fight face-to-face with the enemy were inconclusive.
"There was no evidence to show that a change in current policy would be beneficial or risk free and so a decision was made to take a precautionary approach and maintain the current position," he added.
There are more than 18,000 women serving in the combined services, nearly 10% of all personnel, according to the latest defence statistics. Nearly 3,900 are officers.
This is the largest number of women in the forces since the end of World War II.
Women make up just under 10% of the Royal Navy, nearly 8% of the Army and 13.7% of the Royal Air Force, and there are higher proportions of women officers in all three services.
Most posts across the services are open to women: 71% in the navy, 67% in the Army and 96% in the RAF.
European rules require the policy on eligibility for close-combat roles to be reviewed every eight years and evidence of women serving on the front line in Iraq and Afghanistan was taken into account.
The study also looked at other nations' literature about the effectiveness of mixed-gender teams in close-combat roles and the experiences of male and female personnel who have served together on the front line but, decided the case for lifting restrictions had not been made.