Wikileaks: Prince Andrew faces papers' scrutiny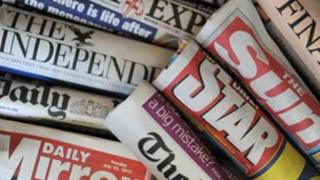 "The world according to Andrew" is the lead for most tabloids and broadsheets.
It follows the leaking of remarks made about Prince Andrew by Washington's ambassador to Kyrgyzstan in a document revealed by website Wikileaks.
The Daily Mail says he made an "expletive-laden rant" against British anti-fraud officers for hampering trade deals during an official trip.
For the Times his attitude over the inquiry was "cocky" and "verged on the rude" when discussing the French and Americans.
'Sneered'
The Daily Telegraph says the Prince, a trade envoy, made an "astonishingly candid attack" on what he called the "stupid" British government.
It says he surprised an American ambassador with his "foul" language during the business brunch.
The Daily Mirror describes Prince Andrew as the "Duke of Yuk" and says he "sneered" at Americans.
The Sun says a Buckingham Palace source said the prince was "quite rightly" banging the drum for British business.
Dignity
The Daily Mail reports that Lord Mandelson is setting up a global consultancy business.
His role will involve advising foreign billionaires and wealthy corporations.
The Guardian says the job will end speculation about what the former business secretary will do next.
This follows Labour leader Ed Miliband's retort - when asked if there was a role for Lord Mandelson in cabinet - that: "All of us believe in dignity in retirement".
Comic life
Many of the papers look back on the life of the Airplane and Naked Gun actor Leslie Nielsen.
The Independent, noting his deadpan delivery, describes him as "the comic actor who never cracked a smile".
For the Daily Mail he was the "Laurence Olivier of spoofs".
The Daily Express says even his autobiography was done for laughs - claiming two academy awards he never receive and a fictional affair with Elizabeth Taylor.