Christmas drivers offered 'free' soft drink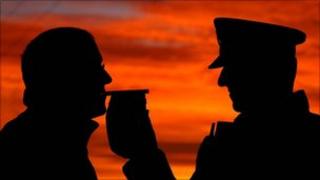 Designated drivers will be offered "free" soft drinks as part of the government's Christmas anti-drink-drive campaign.
Some 8,000 pubs are taking part in the scheme which offers a buy one, get one free deal on soft drinks.
The scheme follows a partnership between the government's road safety campaign THINK! and Coca-Cola.
The campaign will feature radio adverts, posters in pubs, and online search activity until 2 January.
Launching the campaign, road safety minister Mike Penning said: "Drivers should be in no doubt that if they get behind the wheel after drinking this Christmas, they risk losing their licence as well as facing a fine and even a prison sentence.
"Last year 380 people were killed in accidents where the driver was over the limit. That is why our message is clear: don't drink and drive."
Chief Constable Mick Giannasi, head of roads policing with the Association of Chief Police Officers, said officers would be using information from the public to target areas where drink-driving was a particular problem.
He said this meant the chances of getting caught were greater than ever.
"If the police stop a driver, and there is any suspicion that they have been drinking, then they will be asked to provide a breath test and drivers should be in no doubt that if they are found to be over the limit they will be brought before the courts," he said.
"Many drivers don't realise that alcohol stays in the system for a number of hours, and that they could still be over the limit the next morning when driving to work or dropping the children off at school. That is why we are asking drivers to be safe, not sorry, this Christmas."
Excuses
Carole Whittingham from the Campaign against Drinking and Driving said she cannot believe the advert was not being shown on television.
"I'm very disappointed, this has always happened in previous years," she said.
"I suspect the explanation given by the government will be 'We can't afford it.' But quite honestly, I don't think you can put a price on saving somebody's life.
Meanwhile, the AA has released details of a poll of 18,251 of its members which shows the most popular excuse for drinking and driving is: "It's only down the road."
The next most-heard excuse is: "I've had food so that will have soaked the alcohol up."
Other frequent excuses are "It's been a while since the last drink" or "There won't be any traffic around" or "I won't get caught".
As many as 67% of 18 to 24-year-olds had heard the "only down the road" excuse and 35% the "I won't get caught" response.