Vehicle mileages being lowered, MOTs reveal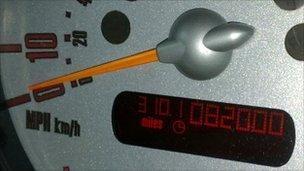 More than 600,000 cars on Britain's roads have been "clocked" so they show lower mileages, the BBC has learned.
When vans and motorbikes are taken into account, MOT data shows the official mileage of 716,291 vehicles is lower than a year earlier.
The figures have prompted fears that large numbers of drivers are being misled about used cars' true mileage.
The Department of Business, Innovation and Skills insists existing laws are sufficient to deal with the problem.
BBC Radio's 5 live Investigates programme secretly recorded calls to 10 web-based mileage correction services, each operating from a mobile phone number.
Six were willing to help wind back the clock on a car, even though they knew it was being done with the intention of deceiving a potential purchaser.
The figures about reduced mileage were revealed as a result of Freedom of Information (FoI) request to the Vehicle and Operator Services Agency (Vosa).
They show that in the year to March 2010, the recorded mileage on MOT certificates for 669,127 cars had dropped compared with that recorded on the previous certificates issued 12 months earlier.
There was a similar problem with 26,512 motorbikes and 19,224 delivery vans.
Vosa says there could be valid reasons why a reading might go lower, including data-inputting errors, or technical faults with the odometer - which records a vehicle's mileage.
However, Trading Standards told the BBC it believes these only account for a small number of cases.
Gerry Taylor, lead Trading Standards officer for the motor trade, said he believes most mileage reduction is done with the single aim of helping used car sellers gain a better price: "Cases where an odometer may be faulty or malfunctioning are very rare."
This was a view echoed by the Office of Fair Trading (OFT) when it investigated the second-hand car trade in 2009. Its report estimated that false mileage was costing consumers £580m a year, and called for "urgent consideration" to be given to the banning of mileage correction or alteration services, a move that has so far been resisted by government.
It says it is talking to Trading Standards about using the Consumer Protection Regulations to best effect.
There are up to 50 web-based companies across the UK which offer to correct mileage.
They point out that odometers do become "corrupted" and need to be fixed. In addition, an imported car needs to be converted from kilometres to miles.
When 5 live Investigates carried out its own random survey and contacted 10 firms, indicating that the odometer was not broken and that the car was to be sold on, six were willing to "clock" the car in order to mislead a prospective buyer - making the firms potentially complicit in the crime of fraud.
One operator, based in the North East of England, said: "You need the mileage to be on whatever you want, so you tell me, I'll do it."
When pressed on whether it was legal to sell on the car without advising the new owner it had been clocked, he said: "You should really tell them, but if you don't tell them, that's up to you."
Another company said it would do the job, but advised that the altered mileage should remain above the number recorded on last year's MOT to avoid arousing suspicion.
"As long as you don't go below where it was logged last - no problems," the firm said.
Four mileage correction firms declined to carry out the work, but Trading Standards officer Gerry Taylor argues that the time has come to outlaw the practice altogether:
"I can't see what legitimate work these companies do."
A Department of Business, Innovation and Skills spokesman said: "This is primarily a matter for the enforcement agencies."
"We will continue to talk with Trading Standards on their use of the Consumer Protection Regulations to help safeguard consumers against rogue traders, and using the legislation in place to the best effect."
Meanwhile the growth in car-clocking is starting to spill over into the insurance market, and is already affecting payouts.
"We are seeing lots of claims where the mileage today is lower than that recorded 12 months ago," said Philip Swift of Claims Management & Adjusting Ltd - a firm which helps insurance companies process claims.
"This can significantly reduce the value of a vehicle," he warned.
Mr Swift added that clocking was also spawning new crimes: "Some people are falsely claiming their car has been stolen as a way of trying to recoup what they paid for it.
"Sometimes we find an owner has realised their car had been clocked, and immediately this raises suspicion on our part."
Related Internet Links
The BBC is not responsible for the content of external sites.