UK gives £37m to aid overseas farmers on climate change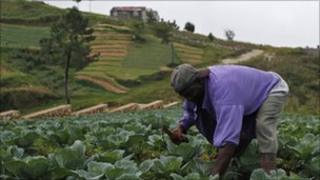 The government has pledged £37m to help develop farming practices so that poor countries can cope with climate change.
International Development Secretary Andrew Mitchell said there was an "urgent" need for new crops that could survive floods, droughts and storms.
The Consultative Group on International Agricultural Research's recent developments include scuba rice, which can survive underwater for two weeks.
The grant will also fund two projects to help existing farming systems adapt.
Just under half of the money is part of the £1.5bn "fast start" funding pledged by the government over three years to help poor countries begin tackling climate change.
According to the Department of International Development, every £1 invested in CGIAR - which supports research into crops, livestock, fisheries, forestry and the environment, and develops new technologies and techniques - leads to a least £9 worth of additional food being produced in developing countries.
Mr Mitchell said: "Scuba rice is just one example of an innovation that has the potential to lift millions of people out of poverty and prevent the extreme hunger caused when crops fail due to flooding.
"The effects of climate change are likely to destroy crops - and livelihoods.
"But thanks to British taxpayers, developments such as scuba rice will help farmers in the world's poorest countries adapt to a changing climate and ensure their communities are fed."
The department said after a 15-day flood in Bangladesh, almost 98% of scuba rice recovered from complete submersion, compared with just 10-12% of the traditional variety.
It is estimated that the release of flood-tolerant varieties of rice could benefit 18 million farming households in Asia.