Police cuts timetable 'needs rethink'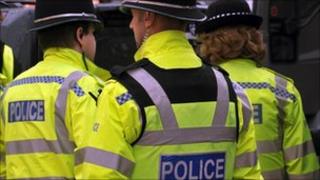 The Home Office is being urged to rethink the phasing of cuts to police budgets in England and Wales.
Cuts over the next four years are due to start with 8% reductions in 2012-13, 6% the year after, and 4% in each of the following two years.
But the Association of Police Authorities say imposing the deepest cuts in the first two years will make it hard to protect front-line services.
The Home Office said greater efficiency would help "protect the front line".
A letter to Policing Minister Nick Herbert from leading members of the cross-party association says it is "committed to doing everything possible to face the challenge" of funding reductions while protecting services, particularly front-line officers.
But it says "a sensible, realistic approach is necessary to realise the savings objectives and avoid long-term damage to policing capability".
The APA members say they are "deeply concerned that front-loading cuts will strip out the required financial flexibility" police forces need to transform their working practices in order to make savings.
The existing cuts timetable will mean fewer community support officers and could affect "safe and secure delivery of the Olympics" in 2012, the letter suggests.
'Reckless gamble'
Shadow home secretary Ed Balls said the government should "seriously consider" the cross-party plea and "think again".
"Police forces have already made clear the speed and scale of the cuts means the front line can't be protected by long-term efficiencies. It will inevitably mean thousands fewer police officers, which will undermine the fight against crime," he said.
"But doing all this at a time when there are a growing number of public protests, an ongoing terror threat, the security challenge of the Olympics and an expensive experiment with directly-elected police chiefs is a reckless gamble."
A Home Office spokesman said it had already been made clear that the police service must "bear its share" of public spending cuts.
The department was "cutting red tape and bureaucracy, freeing officers to get back to the front line where people want to see them", he said.
The spokesman added: "Forces must focus on driving out wasteful spending, and increase efficiency in the back office to protect the front line."