7 July inquest: Injured man 'saved by favourite seat'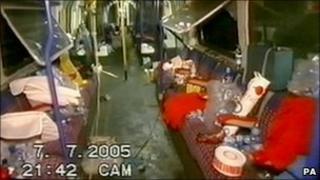 A passenger who lost a leg in a Tube bombing said he survived because he was sitting in his "favourite" seat.
Professor Philip Patsalos was on the Russell Square Tube when bomber Germaine Lindsay detonated a bomb on 7 July 2005, killing 26 people.
He told the coroner he would have been killed if he had been sitting in his second favourite seat, which was inches from where the bomb detonated.
"How I survived, I don't know. Somebody saved me... I'm grateful," he said.
Inquests being held at the Royal Courts of Justice are examining the deaths of the 52 people who were killed by suicide bombers on three Tube trains and a bus.
Prof Patsalos, an epilepsy specialist at University College London's Institute of Neurology, said on the day of the bombings he had boarded the first carriage of the train at Southgate station as usual.
He said the service had just left King's Cross station when he felt a sudden shock and a surge of electricity going through his body.
"I was shaking, I remember seeing my brain, my skeleton. I could see peculiar things.
"I remember thinking to myself, 'When is this going to finish?'"
He said he heard screams and cries from the other passengers and a young man started jumping from seat to seat "like a chimpanzee".
'Denial'
He could not move or see what had happened to him, he said.
"I felt down with my left hand my left leg, which is actually the leg that was particularly damaged as it was closest to the bomb.
"It was rather mushy and I thought, 'that's not good', and I started thinking to myself, 'I've got to stay alive, I'm going to die here'.
Prof Patsalos said he tried not to panic and to stay calm. But when a member of the emergency services did eventually appear in the train, he said he was initially ignored.
"He had a torch and he went over to my right and disappeared. I thought, 'Why hasn't he stopped to say something to me?'
"Clearly the reason was because I was surrounded by motionless bodies, I would assume, and he thought I was also dead."
Prof Patsalos was later carried on a stretcher to Russell Square station and taken to the Royal London Hospital in Whitechapel, east London.
He lost his left leg but his right leg - which was also badly injured - was saved by surgeons.
"If I was seated on seat 90, I was about 3ft away from the bomber. If I sat on my second favourite seat, I would have been 3cm from the bomber and I wouldn't be here today," he said.
He told the coroner he had learnt to deal with what happened "by being in denial in a way".
"I've tried very hard to move forward and be positive, and try to fit into normal life and my environment, and I think I've coped very well," he said.
Mental trauma
A customer services assistant at King's Cross station, Imran Chaudary, told the inquest how he walked through the train treating injured people, but ran out of bandages before he had reached the bombed carriage.
He stayed on the train until all living casualties had been removed.
"I'm still very mentally traumatised. Because of this incident I have got multiple illnesses and I still feel the effect as if it was yesterday.
"I still taste it. I still smell it. It's very raw to me even now we speak. It goes through my head like a PowerPoint slide. It's like flash, flash, flash."
He also described how a senior manager had told him to get out of the control room when he went to collect more first aid equipment - an incident which upset him.