Newspaper review: Papers focus on Wikileaks arrest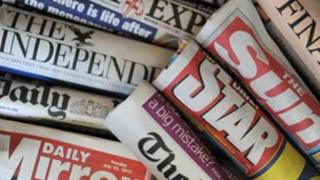 The arrest of the Wikileaks founder Julian Assange is the lead for the Guardian and Independent.
The Independent says informal discussions have already been held between American and Swedish officials about the possibility of Mr Assange being delivered into US custody.
The Times believes the arrest had nothing to do with Wikileaks, referring to the rape allegations against him.
Mr Assange denies sexually assaulting two women in Sweden.
Pension plans
According to the Daily Telegraph, there is fury over plans being studied by ministers to allow pension funds to override their rules linking payments to the Retail Prices Index.
Instead, rises would follow the Consumer Prices Index.
The paper says this measure is generally significantly lower.
According to the Daily Mail, experts have warned the move could mean some 12 million private sector workers seeing their pensions slashed.
'Criminal charter'
"Get out of jail free" is how the Sun sums up Justice Secretary Ken Clarke's proposals for sentencing guidelines.
They include a "U-turn" on an election promise for automatic prison sentences for anyone caught carrying a knife, the paper says.
According to the Daily Mail, Mr Clarke is "taking a gigantic gamble with our safety for ideological reasons".
Daily Express columnist Stephen Pollard calls Mr Clarke's Green Paper a "criminals' charter".
Life of idleness
"Britain's culture of benefits dependency is exposed as new figures show 1.6 million 'workers' have never had a job," says the Daily Express.
It is now clear that generations have embraced a life of idleness funded by the taxpayer, the paper says.
According to the Daily Telegraph, the figures show the number of adults who have never had a job has risen by 200,000 since the coalition was formed.
Half the increase came from former students who cannot get jobs, it says.