Newspaper review: Papers focus on Wikileaks arrest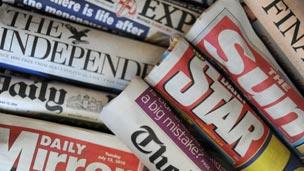 The arrest of the Wikileaks founder Julian Assange is the lead for the Guardian and Independent.
The Independent says informal discussions have already been held between American and Swedish officials about the possibility of Mr Assange being delivered into US custody.
Mr Assange denies sexually assaulting two women in Sweden.
Instead, rises would follow the Consumer Prices Index.
The paper says this measure is generally significantly lower.
They include a "U-turn" on an election promise for automatic prison sentences for anyone caught carrying a knife, the paper says.
It is now clear that generations have embraced a life of idleness funded by the taxpayer, the paper says.
Half the increase came from former students who cannot get jobs, it says.
Related Internet Links
The BBC is not responsible for the content of external sites.