When can't you take photos of a nativity play?
By Ian Shoesmith
BBC News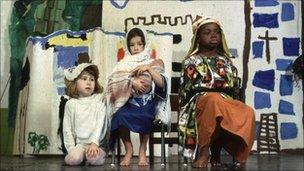 In recent years there have been many reports of relatives being banned from taking photographs of their children in nativity plays. It has resulted in the Information Commissioner issuing guidance, saying schools should allow parents to snap away, free from any worries about breaching the Data Protection Act. But are there any circumstances under which schools should ban the taking of pictures?
The Information Commissioner, Christopher Graham, said such photos did not breach the Data Protection Act so long as they were only for personal use.
But what is meant by this? Until not so long ago, taking pictures at a school event would have involved sending the film away to be processed, and then posting the resulting snaps along with your Christmas card to far-flung loved ones.
But nowadays of course, photos and videos can be sent to the other side of the world within seconds, and shared on social networking sites.
Does sharing pictures on such websites still fall within the definition of personal use?
Tariq Sayfoo, a paralegal specialist in data protection law at RT Coopers solicitors, does not think it does.
"The law talks about 'domestic purposes' - this would include taking pictures for your own use and for that of family and close friends.
"But when it comes to Facebook and other social networking sites, where it is very much more public, that's where you would need consent from the parents of kids in the photos."
Generally schools adopt the position of seeking consent from parents for photographs of their children to be taken, and when all parents give permission there is no problem.
But what happens when, for example, the mum or dad of one child out of a class of 30 objects?
Joanna Nicolas, an independent child protection consultant, said: "No, they shouldn't have the right of veto unless there are exceptional circumstances.
"Decisions like that should be on the basis of legislation and they are not doing anything wrong."
That may be the case when every child in a class comes from a loving, safe and secure family, but what about when there are vulnerable pupils concerned?
Jonathan Pearce, chief executive of Adoption UK - a charity which supports young people and their adoptive and foster parents - said that while he absolutely did not want to spoil parents' enjoyment of special occasions such as nativity plays, the needs of at-risk pupils must not be forgotten.
He said: "The information commissioner's comments are generally helpful in clarifying uncertain areas but there is the risk that (he) is trivialising or overlooking safety and security concerns for many adopted and fostered children and their families."
The burgeoning use of social networking sites poses a very real risk, he said.
"The deliberate or inadvertent disclosure of the child's new family or location can risk inappropriate or unregulated contact between the child and their birth family.
"We know families where children have been found by their birth families via Facebook or other social networking sites."
Mr Pearce said schools must work closely with adoptive and foster parents to ensure the well-being of their children.
Head teachers should, he said, find a way of clearly communicating with all parents when they have good reason for banning photography or filming.
He said this could be achieved while still preserving the confidential details of any children who may be subject to protection orders, or be living with adoptive or foster parents.
A good example of the need for this would be when a child is removed from his birth family because one or both of his natural parents were abusive towards him.
When that child is taken into the care of social services, he would often be moved to a different area.
In some circumstances he would not be allowed contact with his birth family. But were pictures of him performing in a school play to be featured on a social networking site, there is the risk that his abusive natural family could track him down.
Ultimately, it's about striking the balance between protecting the relatively small number of at-risk children and the rights of the vast majority of parents to enjoy looking at photographs recording their children's special moments.
And Ms Nicolas is worried that the present balance may not be right.
"We have become such a litigious society," she said. "Schools and employers have become so frightened that if they let somebody take a picture and it turns out to be that they are a convicted paedophile, then other parents would say 'How dare you allow this?' and sue.
"I don't blame schools for this though - it's a culture of fear and blame. It's not a reflection of the school, it's a reflection of society.
"There might be certain circumstances where you would allow (a ban) but if you had a father who was a convicted paedophile then you wouldn't want him at the school anyway.
"If only we used a more common sense approach - it's very sad. It's making out that everybody is a potential risk to children."
What about our example of a child in care whose identity needs to be protected for their own good?
"You can't let everything be ruled by that," Ms Nicolas said, "We have a relatively small number of children in care.
"The school should use their initiative to put on a play where any number of children could be disguised, for example in costumes.
"Schools should be creative, rather than having a blanket ban on everybody [taking pictures]."
Related Internet Links
The BBC is not responsible for the content of external sites.