BBC chief Reith's abdication verdict revealed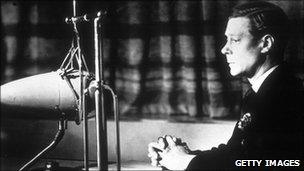 The head of the BBC believed a "miserable, second-rate American woman" was behind the abdication of Edward VIII, archive documents reveal.
The corporation's then director general Sir John Reith made the comments after Edward's historic 1936 radio address.
His diary extracts are among material surrounding the event going online on the BBC Archive website.
Sir John introduced the abdication broadcast as Edward renounced the throne for US divorcee Wallis Simpson.
Sir John - later Lord Reith - did so on 11 December 1936 by saying: "This is Windsor Castle. His Royal Highness Prince Edward".
The material coincides with a new three-part BBC period drama Upstairs Downstairs, set against the dramatic events of the time, starting over Christmas - following on from the 1970s ITV series of the same name.
There is an internal BBC memo from 1936 in which the director of the BBC Empire Service wrote to the controller of programmes.
It states the need for a special news broadcast to counter the rumours circulating about the king's affair with Mrs Simpson.
After introducing Edward's broadcast, Sir John wrote: "[Edward's former private secretary Sir Clive] Wigram told me of the amount of time he had spent with Edward & Albert [his brother, who became George VI] both in the last week.
"He said that the King simply wasn't sane. He was going to realise later what he had done."
Sir John describes how he spoke to Edward's legal adviser Sir Walter Monckton about Mrs Simpson a few minutes after the broadcast.
The director general wrote: "He said he couldn't find words for her. I said it was awful that all this crisis was caused by a miserable, second-rate American woman."
Before leaving, Sir John told Edward "Good luck, Sir" and shook his hand and bowed.
Sir John wrote: "What an occasion. What that young man has thrown away - a greater opportunity than any King or any man ever had."