Newspaper review: Papers highlight Wikileaks hacking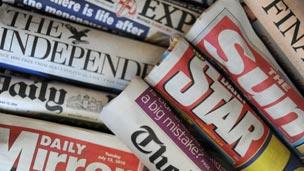 The paper says the attack highlights the vulnerability of the world's computer systems.
The Independent says the American corporations blamed for trying to silence the whistle-blower are under sustained attack from a loose global alliance of anonymous cyber hackers.
US diplomats are said to have been told that the government of Africa's leading oil producer was unaware of how much the firm knew about its deliberations.
It says a blood test for pregnant women that could detect virtually any genetic disorder without risking miscarriage has been developed by scientists.
He is wanted in South Africa on suspicion of plotting to murder his wife during their honeymoon - he denies any involvement in the killing.
He is shown leaving Westminster Magistrates' Court in handcuffs after an extradition hearing.
Thursday's live broadcast of Coronation Street, marking 50 years of the ITV soap opera, is big news for the Sun.
The paper claims that the stars are facing the prospect of full body searches because of fears of a possible al-Qaeda terrorist attack.
In a statement, Greater Manchester Police insisted there was no specific intelligence of such a threat.
Related Internet Links
The BBC is not responsible for the content of external sites.