MP's aide arrest a PR stunt, Russian diplomat says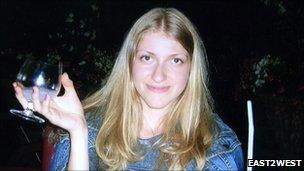 Russia's top diplomat in the UK has suggested British officials might have "orchestrated" stories about the arrest of an MP's aide for allegedly spying for Moscow to whip up ill-feeling.
Alexander Sternik, charge d'affaires at the Russian embassy in London, said reports were a "PR stunt" to undermine improving Russian-British relations.
The arrest of Katia Zatuliveter, 25, a Russian working for MP Mike Hancock, was first revealed in the Sunday Times.
Miss Zatuliveter denies she is a spy.
She has said she will fight her deportation and feels sure she will win.
Mr Sternik, temporary head of Russia's mission in London until a new ambassador arrives from Moscow early next year, said he strongly hoped the media reports were a "spontaneous, sporadic and not orchestrated campaign against Russia".
But he said: "It is very conspicuous that as soon as the green shoots show through the rubble in the Russian-British relationship, these sorts of scandals break out. That's a fact of life."
Mr Sternik said "spy scare" stories appeared periodically in the British media and were usually a "PR stunt to make sure that the attention is not focused where it should be".
"These problems are many over the last couple of months. You can cite, for example, the very unflattering leaks from the WikiLeaks site, the unsuccessful [World Cup] bid in Zurich or some other stories," he said.
He told the BBC's Bridget Kendall he had no facts or figures to support the claim but it was a "general observation".
He said the Cold War stereotypes were "very strong and powerful factors" and it would take time to overcome them.
"It is not surprising that, in some quarters of the political elite, they might still feel about Russia with extreme suspicion or apprehension," he said.
The embassy and the two governments needed to do more to raise the awareness of the "public opinion in both countries of how rich and promising the prospects for the bilateral relationship are", he added.
Mr Sternik said he was also "disappointed" with the Foreign Office's failure to alert the embassy about Miss Zatuliveter's arrest.
"We have a bilateral consular convention which specifically prescribes the sides to immediately notify each other should arrest or detention of their citizens take place," he said.
Mr Sternik said the Foreign Office had eventually told the embassy that Miss Zatuliveter had been detained under immigration legislation, but "it had not received, although we insisted on this, any clarification as to the motives and the reasons that this detention was made".
Russian consular officials had still not been allowed access to Miss Zatuliveter, he added.
Asked if Miss Zatuliveter had done anything that could be construed as spying, Mr Sternik said: "What we know is she is a legal resident in the UK with a valid visa.
"She received at some point a new passport in our consular section and I think this sums up all the formal relationship between the Russian embassy and this person."
British officials have indicated that to meet a deportation order, the case against the Russian researcher does not have to be "beyond reasonable doubt".
The Home Office has not confirmed whether there are plans to deport her.
Miss Zatuliveter was taken into custody on Thursday, reportedly on the orders of MI5, because her presence was alleged to be not "conducive to national security".
She had been interviewed by police on several occasions since the summer.
The researcher started working for Portsmouth South MP Mr Hancock in 2008 and had previously been an intern at the House of Commons.
She is alleged to be the first Russian spy caught in Parliament since the Cold War.
Miss Zatuliveter vowed to fight her deportation case in an e-mail sent to the BBC Russian Service from the immigration centre where she is being held.
Mr Hancock, who sits on the House of Commons Defence Select Committee, has backed Miss Zatuliveter, saying she was not involved in any sensitive work.
He said he had "no reason to believe she did anything but act honourably during the time she was working for me".
Foreign Secretary William Hague has said the government was "vigilant" about the risk of foreign spies in Whitehall.
The latest allegations come after 10 Russian agents, including Anna Chapman, who had dual Russian-UK citizenship, were expelled from the US in July.