7 July bombings inquest: Paramedic describes carnage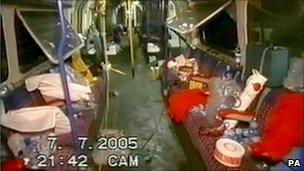 One of the first paramedics to arrive at King's Cross Tube station after the 7 July bomb attack has described how he had to create a "makeshift mortuary".
Peter Taylor fought back tears as he told the inquest that there were "large mounds" of bodies and horrifically injured passengers crying out for help.
He said protocol had forced him to identify priority cases before quickly moving on, rather than treat people.
Germaine Lindsay killed 26 people with a bomb on the Tube on 7 July 2005.
His suicide attack, on a southbound Piccadilly Line train between King's Cross and Russell Square, was the most deadly of four co-ordinated attacks on the London transport network which killed 52 people.
The inquest at the Royal Courts of Justice heard graphic descriptions of the carnage on the train.
Rescue workers struggled to reach the living as injured passengers were trapped under debris while others were pinned to their seats by fallen handrails and pieces of metal.
Mr Taylor described arriving at the crater left by the blast, where he spotted a torso with light-brown skin and "no identifiable face or limbs".
He said leaving 22-year-old Philip Beer, who called out "help me" as he made his way through the carriage but later stopped breathing, was the "hardest decision I have ever had to make".
The inquests heard that, when dealing with smaller incidents, triage paramedics might attempt to resuscitate victims but on this occasion, owing to the number of casualties, they had to move on.
"It was one of the most difficult decisions I have had to make," Mr Taylor said.
"I had to just stick to the guidelines... the patient wasn't breathing."
Mr Taylor went on to describe how he had to ask firefighters to make a makeshift mortuary after he found social worker Ojara Ikeagwu, from Luton, who had lost her arms and legs in the blast.
"I opened her airway, she wasn't breathing and I tagged her as dead," he said.
The inquest also heard from David Tompkins, an emergency medical technician who tended to victims Lee Harris and Samantha Badham.
The couple, from Tottenham, north London, were found lying next to each other on the tracks, in severe pain and with their legs twisted and entwined with each other.
Mr Harris, a 30-year-old architect, was partially trapped under the train while Miss Badham, a 35-year-old web designer, was lying close by.
"I just told her to stay calm and that help was coming," said Mr Harris.
"I remember staying with them for some time, I just felt that it was difficult to leave them but I knew that I had to go on to help other people."
Both later died from their injuries.
Paramedic Adam Desmond told the inquest Miss Badham's heart had stopped as she was being carried on a stretcher to the ticket hall.
"Just before I moved [Miss Badham], I whispered in her ear that I was going to take her out now and, when I looked up, she smiled at me and squeezed my hand, so I took that to mean that she had understood what I said," he said.
Recalling how Miss Badham had struggled to talk, Philip Nation, a paramedic seconded to London's Helicopter Emergency Medical Service, said: "She was trying to mouth something to me but to this day I can't really say I heard clearly what it was."
Lynne Harris, mother of Mr Harris - who survived for more than a week after the blast - listened intently as her son's harrowing ordeal was described in court.
But she later broke down in tears as she thanked paramedics for their work during an emotional reunion after the hearing.
"To relive it now, what they did then, is just a nightmare for them. It's bad enough for us but for them, they've got it in their heads," she said.
Earlier, the inquest was told that although additional ambulances were called to King's Cross, some of these stopped en route when they came to the scene of the Tavistock Square bus bombing.
Hugo Keith QC, counsel to the inquests, told Mr Taylor he had gone "the extra mile" in seeking and obtaining a second opinion as to whether Mr Beer was dead.
His comments were echoed by the coroner Lady Justice Hallet who praised his professionalism, adding: "You had, on that day, a dreadfully difficult and horrid job to do.
"I'm sorry somebody had to do it."
Related Internet Links
The BBC is not responsible for the content of external sites.