Tuition fee demonstration: Policing 'no easy job'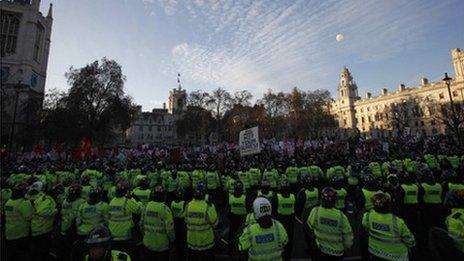 The police tactics used when violent clashes broke out at the tuition fee demonstrations outside Parliament will no doubt come under scrutiny in the coming days. But just what were those tactics and how have they changed over the years?
Across London, officers were taken off their usual duties patrolling their neighbourhood streets and drafted in to try to keep the peace in Westminster.
Peter Power, a former senior Metropolitan Police officer, explains this is no easy job.
The protesters are young, fit and intelligent and the officers are desperately trying to allow them to protest because they have a genuine right, he says.
Every officer has to be accountable for his or her actions but it is unclear at which point a line is crossed, says Mr Power.
"We spend many hours at Scotland Yard thinking about these things but the police are damned if they do, and damned if they don't," he says.
On Thursday, the police used horses to force back crowds as well as the increasingly familiar technique of crowd containment - or "kettling".
All the officers out on Westminster's streets will have had some public order training.
Officers from the Territorial Support Group, however, are trained to a higher level and will rarely be deployed in the first instance.
Mr Power says footage of disorder from past decades would show no specially-prepared officers - all would be in the same uniform.
"Now they all start off looking like Dixon of Dock Green, without helmets and shields, but can quickly go to Darth Vader," he said.
Another major difference today is the use of mobile communications, such as Twitter and Facebook, meaning events can be organised quickly and protesters can stay ahead of the police and often avoid kettling areas, says Mr Power.
Horses, considered the public-friendly face of the police, have played a noticeable role in Thursday's protests. They too, undergo a lot of training at a west London police base in Hounslow, says Mr Power.
They work alongside lines of officers in fluorescent jackets having tennis balls hurled at them, in preparation for missiles as hard as bricks. Only the most passive horses are selected for the work.
Mr Power adds that horses only ever walk, never charge, into a crowd, and are considered a passive tactic - more user-friendly than baton rounds (plastic bullets) or tear gas.
The horses give mounted officers an advantage over protesters by being twice as high off the ground.
"You also get more public sympathy [for the police] for a protester hitting a horse, than an officer," he adds.
Mr Power goes on to say kettling tactics were first considered in the mid-1980s but rejected over fears of infringing civil liberties.
Since then, police have found that when protests get out of hand, they will try to justify the use of containment, Mr Power says.
Hamish Brown, a retired detective inspector who was with the Met for 31 years, experienced the "pretty scary" protest at first hand.
He says today's crowds seemed more hostile than in previous disorder on London's streets.
He defends the police tactics by pointing out that protesters came prepared to cover their faces with balaclavas or helmets, and threw paint bombs and sticks, and passed street furniture through crowds to use as battering rams.