Prince Charles and Duchess of Cornwall unhurt in attack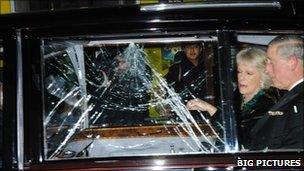 A car carrying Prince Charles and the Duchess of Cornwall was attacked by protesters but the couple were unharmed, Clarence House has said.
Protesters kicked, threw paint and smashed a window of the car which was travelling along Regent Street in central London.
A spokeswoman said the couple later attended the Royal Variety performance as scheduled.
They left the theatre in a police van after the performance.
Adnan Nazir, 23, was one of the first to recognise the royal couple in their Rolls-Royce.
"I said, 'It's Camilla'. I wasn't trying to alert them. I was just surprised to see her. A few people turned around and started hitting the windows. People started kicking the car," he said.
He added that the prince remained calm, "waving and giving the thumbs up".
Another eyewitness told BBC News: "I came forward and I saw him on the back seat. It was definitely Prince Charles, no doubt about it. They tried to protect him but there was too many of them."
The car behind, an official royal Jaguar, also came under attack.
Camilla laughed off the attack. As she left the Palladium, she said: "I'm fine, thanks - first time for everything." The Prince of Wales smiled.
Scotland Yard has condemned the "outrageous and increasing levels of violence".
A spokesman said: "It has gone so far that a car in which the Prince of Wales and the Duchess of Cornwall were travelling through the West End was attacked. Police managed the situation and they were unharmed."
Related Internet Links
The BBC is not responsible for the content of external sites.