Newspaper review: Papers reflect on day of protest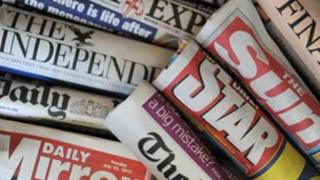 Images of a shocked Duchess of Cornwall as the car she is travelling in is attacked by protesters stare out from almost all the front pages.
The duchess and Prince of Wales were caught up in student demonstrations on their way to the London Palladium.
The Times says another day of protest against rising tuition fees descended into confrontation on London's streets.
The trouble culminated in a breakaway mob chasing and attacking the royal car, the paper continues.
'Shameful attack'
"Rioters attack prince in car," exclaims the Daily Telegraph.
The paper says demonstrators kicked the Prince of Wales's Rolls-Royce as it travelled to the Royal Variety Performance in central London.
"Student demo yobs in shameful attack on Charles and Camilla," proclaims the Sun, calling it a "battle royal".
The paper says the royal couple appeared to gasp in shock as their vehicle was kicked and punched, and spattered with paint.
Rapidly deteriorated
"With terror written across her face, the Duchess of Cornwall comes under fire from a snarling mob of student fees rioters."
That is how the Daily Mail describes the moment Prince Charles and Camilla's car is attacked by protesters.
The Guardian says the incident happened as a wave of protests swept through central London against fees increases.
It describes how an initially peaceful demonstration rapidly deteriorated outside Parliament.
Sizeable rebellion
The Independent says the vote itself in the House was won - but outside, the tuition fee battle still raged.
The paper notes that fewer than half of Lib Dem MPs voted in favour, in the biggest rebellion against the party's leadership since it was formed in 1988.
The Financial Times says the coalition "won a bruising victory on lifting university fees" .
Narrow approval was secured in spite of a sizeable backbench rebellion, as police and protesters clashed outside, it adds.