Student protests: The morning after the night before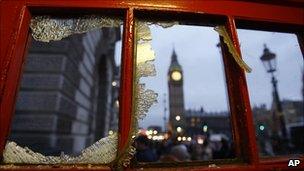 Like many of us at this time of year, the streets of Westminster still looked a little rough around the edges on Friday morning.
Despite an army of cleaners and contractors, you didn't have to look very far before seeing how students and other protesters had left their mark.
A line of red phone boxes was hastily being patched up by a BT repair man after being reduced to mere metal shells, their panes of glass crunching under foot as you walked away from Parliament Square towards Whitehall.
Graffiti was everywhere, despite the best efforts of the City of Westminster's removal team. "FIGHT BACK" read one message daubed on the wall of one of Westminster Tube station's many exits. And on nearby buildings, the Lib Dem leader Nick Clegg was the subject of much hastily scrawled and sprayed abuse.
Even Winston Churchill did not escape. While his statue in the shadow of Big Ben escaped a repeat of the May Day protest 10 years ago - in which a clump of turf gave him an odd-looking green Mohican - its base was covered in obscene graffiti on one side, and "EDUCATION FOR THE MASSES" on the other.
Just around the corner, a statue of the late 19th Century prime minister, Viscount Palmerston, did not escape either. In his left hand, fully 4m above Parliament Square, there was a placard reading "COALITION RESISTANCE!".
Ironic, really, given that his most famous quote was: "The function of government is to calm, rather than to excite agitation."
Around his feet, joining the fallen leaves were the remains of the students' placards, a tangle of metal fences, and, more ominously, lumps of concrete which, a few hours earlier, had been thrown at police officers.
Visitors to this hungover bit of central London were left bemused.
"As a tourist you look at this mess and it looks like a war zone," said Michael, a 31-year-old from near Gelsenkirchen in Germany. "We wanted to come to Westminster yesterday, but you don't want to take pictures and get a bottle smashed over your head."
Does he have any sympathy for students? "A little - in Germany we have tuition fees but they are [only] 500 euros (£418) for every three months, so I think it is a bit expensive to pay £9,000 per year.
"But it's not OK to smash up the city."
Businesses in the area did their best to avoid the trouble, but money was undoubtedly lost.
In Parliament Street, Cafe Churchill was busy on Friday morning - a good job because it was forced to close at 1600 GMT on Thursday as the violence grew.
Jonathan Iwasa, from the Big Bus Company, said: "The only problem was the traffic, because roads were closed."
He thought the protests weren't good for London's international image and he had little sympathy for the student protesters. "There is a better way to sort out problems than using violence," he said. "The police had to use their horses to contain the students."
Spare a thought for Paul Maplethorpe, 53, and Helen Cavanagh, 48, from Rotherham in South Yorkshire.
Paul proposed to Helen on Thursday night but their big night was spoiled somewhat by their nearby hotel - booked for a romantic getaway - being under siege.
She still said "yes" though, and you could tell that they, at least, will remember 9 December 2010 for altogether happier reasons than the Metropolitan Police will.
Neither had too much sympathy for the protesters, though.
Speaking to BBC News after taking some snaps through the heavy iron gates at the junction of Whitehall and Downing Street, Paul said: "How many of them causing mayhem were students and how many were anarchists?
"If they feel so strongly, the students can organise themselves and can wipe the Lib Dems off the face of the earth at the next general election."
After pointing out that American students pay far more to study in the United States - up to £20,000 per year, Helen said: "But I do feel sorry for some of them."
Her new fiance added: "But then, you do see them spending evenings in the pub - a lot of their money goes on the pub!"
Both were surprised about Prince Charles and Camilla being caught up in the protests, when their car was surrounded and attacked.
"Why did [the police] let Charles and Camilla go through all of this? They obviously knew this was going off," said Helen.
The police also came in for heavy criticism from one of the thousands of students who descended on London for the demonstration.
James Greenhalgh, a 20-year-old politics student from Leeds University, came down to London and had arranged a meeting on Thursday afternoon with his local MP, the Conservative whip Michael Fabricant.
"People were getting crushed. I saw one woman who had fallen down. She was screaming for help but the police just looked at her and left her on the floor. It made me physically cry.
"Police charged at us on their horses on Whitehall, near Downing Street. People were trying to get out of the way, but there was nowhere to go. Christmas shoppers were caught up in it all - they couldn't get out.
"Police kept moving us here and there. We got kettled on Westminster Bridge from 2000 to 2345. They wouldn't let people have water, and refused to help."
Visibly shaken at what he had seen on Thursday evening, he warned: "There will be more people on the streets [in coming months] - we've got to fight the coalition ripping apart the social fabric of this country."