Drug-drivers 'stand little chance of being caught out'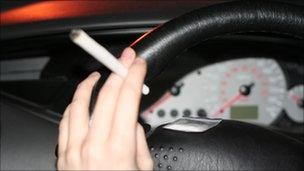 Drivers who take illegal drugs and then get behind the wheel of a car stand little chance of being caught and convicted, according to MPs.
Figures seen by the transport select committee show just 168 drug-drivers were prosecuted in Britain in a year.
This was despite drugs having been suspected of playing a contributing role in 56 fatal accidents in 2008.
The government said it was determined to ensure the police had everything they need to tackle "this menace".
By contrast with the UK, in Germany 34,500 people were prosecuted for drug-driving during a similar period.
In its report, the transport select committee said: "At the moment, people assume - quite correctly - that they can take drugs and drive a vehicle with little chance of being caught and convicted.
"The best way to improve enforcement is to ensure police officers have the use of devices to screen suspected impaired drivers for drugs."
The reason for the much higher number of prosecutions in Germany is thought to be due in part to the fact that German police have hand-held drug drive testing devices, which they use at the side of the road.
It acknowledges that insufficient research has been done, but it is generally believed that drugs impair driving skills.
In Britain the authorities do not routinely keep figures for the number of people who have died or been injured because of drug driving.
But partial figures from a number of police forces in England and Wales listed drug driving as a contributing factor in 56 fatal road accidents in 2008.
Experts say that because very few people are tested in Britain and routine data is not collected, this figure is probably just the tip of the iceberg.
In Britain, a law was introduced in 2003 to allow police officers to use a testing device to screen for drugs at the roadside, but seven years on officers are still some way from being given access to a roadside device.
According to the North Report, the Home Office Scientific Development Branch worked on the development of a roadside testing device for a decade, but in 2008 that was halted and in 2009 external research contractors were brought in.
There were concerns over the accuracy of the devices and their ability to operate at extreme temperatures. But manufacturers say the authorities here are being unrealistic and that devices already on the market are accurate and used in the extreme temperatures of Australia and Iceland.
Dr Rob Tunbridge, an expert in impaired driving, said the roadside devices should be made available to police officers in Britain and that several other European countries have been using them for some time.
Michelle Sneddon, from Fife, lost her five-year-old son when a driver high on a cocktail of drink and drugs crashed into them as they walked home from a Sunday morning dance class. A friend and another child were also killed in the accident.
She told 5 live Investigates: "I have spoken to police officers and they all want this device. With it they will know there and then if a person is on drugs. They need those devices over here to catch more people."
At the moment the only way police in the UK can test for drugs is by conducting what is known as a Field Impairment Test. This involves looking for tell-tale signs of drug use in the eyes and asking motorists to do a series of tasks such as walking in a straight line and touching the end of their nose.
But according to the Police Federation, it is difficult to enforce the current legislation relating to drug driving as the tests are impractical and only a "small handful" of officers are trained to undertake them.
They also told the committee some officers reported occasions when both police and CPS lawyers were unsure of the detailed evidence required to bring a successful prosecution for drug driving.
We spoke to a number of drivers who said they had taken drugs before getting behind the wheel.
Some said they regretted it and would not do it again, others said they did not believe their driving was impaired by taking drugs.
One woman told us she had lost several teeth in a motor-bike accident after taking ecstasy. Another told us she would never drink and drive, but admitting driving after smoking cannabis regularly.
One man in his twenties said he had been stopped by the police after driving through a red light. He had smoked cannabis before deciding to drive his friends home from a party.
But he was shocked and relieved when police sent him on his way without testing him for drugs or asking if he had taken them.
He said they told him they were glad he had decided not to drink so that he could be the nominated non-drinking driver.
According to Michelle Sneddon, who now campaigns on the issue, drug driving does not have the same stigma as drink driving.
She said: "A lot of people think it's acceptable. They don't think they will get caught because there is no deterrent out there to stop them from doing it.
"I have had young people come up to me and say they have done it but said, 'oh but it didn't affect me, I was fine'.
"But what they don't realise is, the next time they do it, they could hallucinate, think something's run in the road, swerve to miss it, and crash into an oncoming car," she says. "They could wipe out a whole family."
The Department for Transport, which is the lead department on drug driving issues, has pledged to bring in a testing device to be based in police stations by next year.
But experts and campaigners say this is not good enough, they say police officers need testing devices they can use on the road.
Road Safety Minister Mike Penning said: "Drug drivers put the lives of responsible motorists at risk and we are determined to ensure the police have everything they need to tackle this menace.
"In August we announced that we want to see drug screening devices to be available for use in police stations next year, making it easier for offenders to be brought to justice.
"We are also investing in the development of screening equipment that could be used at the roadside and we hope to see trials of these devices in the next two years," he added.
"This will help to stop this selfish minority who believe they can get away with breaking the law and putting others at risk."
You can also listen again on the BBC iPlayer or by downloading the 5 live Investigates podcast.
Related Internet Links
The BBC is not responsible for the content of external sites.