Home Secretary will not appeal over 7 July evidence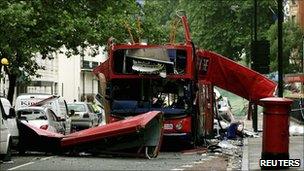 The home secretary has decided not to appeal against the ruling that top-secret evidence in the 7 July inquests must be heard in public.
In October, coroner Lady Justice Hallett rejected pleas to exclude victims' relatives from hearings relating to MI5's knowledge of the bombers before the attacks.
The High Court later ruled that her decision should be upheld.
Fifty-two people died in suicide attacks in London in July 2005.
Relatives of those killed want to ask security officials why two of the bombers - Mohammed Sidique Khan and Shehzad Tanweer - were not pursued more aggressively by MI5 after they were observed meeting known terror suspects 17 months before 7/7.
Some families are adamant that those questions must be asked in public, but MI5 has argued that would be both unnecessary and impossible because it would require the disclosure of top-secret files.
Lady Justice Hallett, in her ruling on 3 November, concluded that she did have the power to exclude the public from certain hearings in the interests of national security.
But she ruled that did not include "interested persons", such as the bereaved relatives, who were legally entitled to be represented at the inquests.
She said she hoped that "with full co-operation on all sides" - and by redacting certain details where necessary - most if not all of the relevant material could be heard without threatening national security.
A spokeswoman for Home Secretary Theresa May said on Friday she still believed that allowing some closed hearings "would be the best way for the coroner to consider as much information as possible".
But she said: "The court has decided this is not possible and we are not appealing this.
"It is clear to us from her judgment of November 3 that Lady Justice Hallett wants to protect national security and we will now work with her to take this forward and seek to explore a range of options to this effect."
Clifford Tibber, who represents relatives of six of the 7 July victims, said: "It will be a huge relief to the families to know that they can now concentrate on the evidence to be given at the inquests.
"They have been very distressed by the satellite litigation initiated by the home secretary.
"The coroner is well able to balance the need for fairness to all parties with the basic principles of open justice."
Corinna Ferguson, legal officer for civil rights group Liberty, said: "We hope this sensible decision signifies that the intelligence community has found new faith in the courts' ability to protect national security within the rule of law."
The home secretary could still use rarely-employed powers to transform part of the inquests into a public inquiry, which could then examine documents in closed hearings.
But Lady Justice Hallett has warned that doing so could lead to lengthy delays and would cause extra suffering to bereaved relatives and survivors.
Related Internet Links
The BBC is not responsible for the content of external sites.