Newspaper review: Papers reflect on royal car attack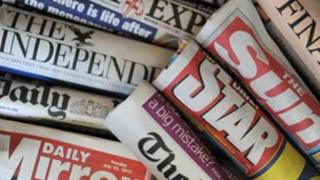 Most papers lead on the aftermath of the violent protests in London on Thursday that led to the attack on the car carrying the Prince of Wales.
The Daily Telegraph says the prince and the Duchess of Cornwall were left at the mercy of a baying mob.
It was, the paper says, an irresistible target for the students.
The paper suggests that Prince Charles does not need more armed guards but security advisers who keep up with the news better.
Monumental mistake
The Daily Express and the Sun report that the duchess was jabbed in the ribs with a stick through an open window.
"They hit her", is the headline in the Daily Express, with a picture of a rioter confronting an alarmed duchess.
The Daily Mail focuses on the man seen swinging from the flag at the Cenotaph, who was Charlie Gilmour, son of Pink Floyd guitarist David Gilmour.
The paper says that, astonishingly, the Cambridge history student claimed he did not know what the monument was.
Political theatre
There are many pictures of the empty chair that the Independent says played a poignant starring role at the Nobel Peace Prize ceremony in Oslo.
The Times describes the ceremony, honouring the jailed Chinese dissident, Liu Xiaobo, as an extraordinary piece of political theatre.
The Nobel committee, in effect, turned the tables on the emerging superpower.
At home, the Times says, China is jailing its opponents; in Oslo, an intransigent government was in the dock.
Show excitement
There are rumours and predictions as the papers eagerly anticipate the final of TV talent show the X Factor.
The Times says one unexpected winner could be Scottish band Biffy Clyro.
If Matt Cardle, 27, wins, his cover of their ballad Many of Horror is likely to be Christmas number one, netting them hundreds of thousands of pounds.
The Sun reports judge Cheryl Cole has banned all staff from entering her dressing room, as she believes Simon Cowell is trying to "sabotage her".