Koran-protest pastor Terry Jones invited to UK rally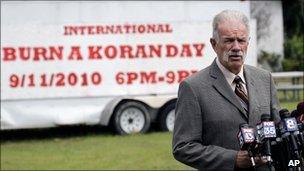 Campaigners are calling for a controversial US pastor to be banned from entering the UK to share his views on Islam with activists.
Terry Jones attracted condemnation when he threatened to burn copies of the Koran on this year's 9/11 anniversary.
He said his presence at an English Defence League rally in February would be "positive" but he admitted he would preach against "extremist Muslims".
Unite Against Fascism said it would be holding an anti-racism demonstration.
And the anti-extremist group Hope Not Hate is urging the home secretary to act.
The EDL said on its Facebook page that the rally in Luton, Bedfordshire, on 5 February would be "our biggest to date". It said Mr Jones would be joining the organisation to "speak out against the evils of Islam".
Mr Jones, pastor of the Dove World Outreach Center in Gainesville, Florida, which has fewer than 50 members, told BBC 5 Live he had "no intention" of burning the Koran in the UK.
'Intimidation and division'
He said his speech would be "on harmony, on the subject that Muslims are welcome in our country".
He said: "We have no problem with Muslims - we have freedom of speech and religion - Muslims who want to make our country their country, obey our laws and constitution.
"We have a problem with them, which I believe you all have also, when they go on the street... and they call for the death of the UK, for the death of Israel, for the death of America. They call for Sharia law.
"They say they are going to turn Buckingham Palace into a mosque and the Queen must convert to Islam or leave the country."
Mr Jones admitted that his knowledge of the EDL was "somewhat limited".
"It's only what I know through conversations with them that my office has had and then of course the different material in the internet that they have put out. I would describe them as a group who, I believe, in their words they want England to stay English."
Weyman Bennett, joint national secretary of Unite Against Fascism, said: "Terry Jones is coming here to whip up Islamophobia and racism.
"We intend on calling a mass demonstration where everyone can oppose the growth of racism and fascism in this country."
Anti-extremist group Hope not Hate condemned the invitation to Mr Jones and has launched a petition calling on the home secretary to ban him from entering the UK.
Its director Nick Lowles said: "Only extremists will benefit from his visit and, as we know, extremism breeds hatred and hatred breeds violence.
"It is yet another example of how the EDL exists only to sow the seeds of intimidation and division."
George Readings, spokesman for counter-extremism think tank, Quilliam said: "Terry Jones is only coming to the UK to address a rally by the EDL, a far-right group whose protests have a track record of degenerating into violence.
"This suggests that his presence in the UK will not be conducive to the public good. The EDL has only invited him here to stir up trouble."
A Home Office spokesman said: "We do not routinely comment on individual cases."
Home Secretary Theresa May has the power to exclude an individual from coming to the UK if she considers that the individual's presence here would not be conducive to the public good.
Mr Jones came to prominence in September after he announced plans for his "International Burn a Koran Day".
His plan was internationally condemned and sparked many demonstrations around the world. He eventually called off his protest.
Related Internet Links
The BBC is not responsible for the content of external sites.