Sunday papers: Royal security breach remains in focus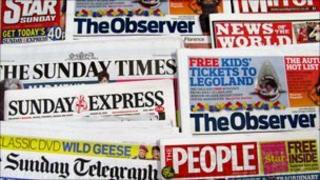 The royal security breach during the violence in London on Thursday continues to make front page news.
The Sunday Times says the Met Police Commissioner phoned Prince of Wales to apologise for the attack on his car and offered to resign.
The Daily Telegraph says the royal couple have made it clear that they will not be cowed by the attack.
A royal aide is quoted as saying they would remain as "visible" as ever, despite finding it intimidating.
Controversial visit
The decision by the controversial American preacher, Terry Jones, to visit Britain is the Observer's lead.
He has been invited to preach at a rally for the English Defence League in Luton in February.
It says anti-extremist campaigners and MPs have urged the home secretary to ban him from entering the country.
The paper quotes one campaigner as saying the pastor's presence at the demonstration will be "incendiary and highly dangerous".
Climate summit
The agreement at the climate summit in Cancun is the Independent's main story.
It says the delegates pulled off one of history's major repair jobs by reviving the project to counter global warming.
Its prospects had seemed critically damaged by the failure of the Copenhagen summit a year ago.
The paper believes the measures are not yet enough to save the climate, but are enough to save the international climate change negotiating process from total collapse.
Prince in love
The official engagement pictures of Prince William and Catherine Middleton appear widely and many are struck by their intimate nature.
The Mail on Sunday says the portraits are a remarkable public declaration of love to herald a new royal age.
The People finds them an astonishing contrast to what it calls the stuffy, over-formal engagement pictures of other royal couples in the past.
The Sunday Express says it is clear to see how in love they are.