Newspaper review: Papers report UK link to Sweden bomb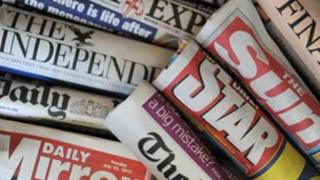 Many of the papers lead with the news that the man suspected of a suicide bombing in Sweden on Saturday had links to the UK.
Taimour Abdulwahab al-Abdaly, 29, has been named by many as the man who died in the attack.
The Daily Mail says he was radicalised while studying in Luton, a town it describes as "a hotbed of terrorism," and says he had been in the UK for much of the last decade.
It thinks it raises new questions about admissions to British universities.
New method
The Daily Telegraph says Abdaly was in the UK two weeks ago, and that his wife and children still live here.
One of his lecturers, Tim Paine, tells the Times that Abdaly once told him he was becoming "stressed-out" about the invasion of Iraq.
The Guardian thinks the attempted bombing may represent a new type of jihadist attack in the west.
These see individual al-Qaeda supporters using whatever tools are at hand at the time.
Police tactics
There is concern about the home secretary's assertion that water cannon could be used by police to deal with future demonstrations.
The Daily Mirror says it would be the first time the tactic had been used in mainland Britain.
A professor who attended demonstration, Simon Szreter, tells the Independent the police tactics were disrespectful "on a premeditated, industrial scale."
But he writes that he reserves more blame for politicians.
X Factor
"Tantrums, scandals, rows...and a few songs" is how the Daily Express sums up X Factor, which has now come to an end for another year.
The ITV talent show drew record audiences once again and was won by a painter and decorator, Matt Cardle.
The Sun says he will now be worth £5m a year.
The Daily Star is concerned about the decency of the final, in which guests Rihanna and Christina Aguilera wore "little more than underwear".