Stockholm suspect Taimour Abdulwahab al-Abdaly profiled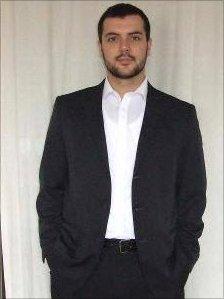 Taimour Abdulwahab al-Abdaly, the suspect in the Stockholm suicide bombing, had been confronted over his radical views by members of an English mosque, it has emerged.
Having moved to Luton to study in 2001, graduating three years later, he attended the town's Islamic centre for a few months in 2007.
However, its director of finance, Farasat Latif, said he tried to present a "distorted view" of Islam.
"He was pushing across the ideas that most violent radical Muslims hold, pronouncing other Muslims to be disbelievers, encouraging rebellion against the Muslim lands and Muslim leaders," said Mr Latif.
"Although we found his beliefs reprehensible, there was nothing to suggest he was about to commit a criminal act.
"He was trying to promote his views, we publicly exposed them, which he didn't expect, and therefore he felt humiliated and he left. We never saw him again after that."
The centre's chairman Abdul Qadeer Baksh said: "We felt very uncomfortable but we could not categorise him as a terrorist.
"Part of me questions did I spend enough time with him. Should we really have exposed him publicly and made him storm out? Maybe I should have stayed with him and worked more," he said.
Despite this, neighbours interviewed by the BBC described Abdaly as a family man.
According to his profile on dating site Muslima, he was a 29-year-old married father seeking a second wife.
It said he was born in Baghdad, Iraq, and moved to Sweden in 1992 before heading to the UK in 2001.
The Swedish national graduated with a BSc in sports therapy from the University of Luton three years later, said a spokesman for the institution - now the University of Bedfordshire.
Neighbours said he moved into his home in the town's Argyll Avenue within the last year and had been a good neighbour who caused no problems, although none of those interviewed said they knew him well.
While mostly written in Arabic script, his Facebook page lists interests like National Geographic, I love my Apple iPad and Mafia Wars Game, alongside I'm a Muslim, And I'm Proud and Prophet Muhammad. His profile image matches that of the group Islamic caliphate state.
On Muslima, he explains he has two daughters - aged one-and-a-half and three-and-a-half - although the Press Association reports that he and his wife also had a son this year.
The news agency said his wife Umm Amira, known as Mona, ran a company called Amira Makeup and Hair. Abdaly said on Muslima that she had agreed to him marrying again and requested a practising Sunni Muslim.
Describing himself as "not rich" but also not poor, he says he gives money to the needy when he has extra and says it is important that any prospective partner understands that.
"In the future, I am looking for to move to [an] Arabic country and settle down there," he adds.
A white Audi packed with gas canisters left severely damaged in the attack was registered to Abdaly in Sweden, prosecutor Tomas Lindstrand has said.
BBC correspondent Stephen Evans said prosecutors had the impression that Abdaly "flitted back and forth" between the UK and Sweden, where his parents lived about two-and-a-half hours from Stockholm.
Related Internet Links
The BBC is not responsible for the content of external sites.