Student fees: Met Police in talks over water cannon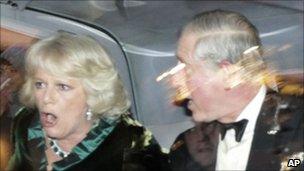 Scotland Yard has said it is "liaising" with police in Northern Ireland about water cannon, after Thursday's student fees protests in London turned violent.
But a Metropolitan Police spokesman said there were "no current plans" to use them and it had not asked for two.
It comes after Home Secretary Theresa May told MPs a report was due into the protesters' attack on Prince Charles and the Duchess of Cornwall's car.
And she said cannon were not government approved for use in England and Wales.
On Thursday, protesters clashed with police while MPs voted for plans to allow universities in England to charge tuition fees of up to £9,000 per year.
The royal couple's Rolls-Royce was attacked by protesters and a window smashed as they were caught up in the trouble on their way to an engagement.
There has been speculation that measures to combat protesters may be toughened up, amid criticism of the handling of the demonstrations.
In the Commons on Monday, Mrs May gave a statement on the aftermath of the protests.
Ian Paisley Jr asked if she could comment on a "request" for two water cannon "from the stock of six" available in Northern Ireland and if she was aware of a "conversation" between the Met Commissioner and the Chief Constable of the Police Service of Northern Ireland.
Mrs May did not address the point but had earlier told MPs that the Home Office had not approved water cannon as a measure that could be used in England and Wales.
She said: "I don't think anybody wants to see water cannon used on the streets of Britain."
Speculation was fired by her comments on Sunday when she said Scotland Yard was looking at control measures "across the board" - leaving the door open for their use.
In a later statement on Monday, the Met Police confirmed: "We are liaising with colleagues in Northern Ireland and seeking up-to-date advice and knowledge about water cannon."
A spokesman said talks centred on the logistics and effectiveness of water cannon, which have been deployed in Northern Ireland.
The matter is thought to have been discussed in the past few days but Scotland Yard said: "There are no current plans to use water cannon. We don't have the operational capability to do so."
Theresa May told MPs a report into Thursday's security breach on the royal car would be completed by Friday.
She said public details of the findings may be limited for security reasons but she would wait for them before deciding on any action.
Mrs May said: "There has been much speculation about the Duchess being struck through the window of the car and I understand that there was some contact made.
"The Metropolitan Police Commissioner has ordered an urgent review of the royalty protection arrangements in place on the night and I can tell the House that the review is due to report by Friday December 17."
A review is also under way by the Independent Police Complaints Commission after 43 protesters were injured, one seriously.
Student Alfie Meadows, 20, needed brain surgery after allegedly being hit with a police baton and knocked unconscious.
Mrs May told the Commons that 30 officers were injured and six were taken to hospital.
She said there had been 35 arrests so far, but could not give figures on how many had been charged.
She said the number of arrests was likely to rise as while some "students behaved disgracefully, the police also assess that the protests were infiltrated by organised groups of hardcore activists and street gangs bent on violence".
The home secretary also praised Metropolitan Police Commissioner Sir Paul Stephenson, saying he served London "with distinction".
Police tactics have come in for criticism and there has been speculation he offered to resign in the wake of the car attack.
Shadow home secretary Ed Balls also condemned the violence seen on Thursday, but stressed that Labour MPs shared students' "dismay, anger and injustice felt" at the "deeply unfair hike in tuition fees".
He called on Mrs May to shelve a "cost-cutting" review of royal security.
And he asked for assurances that forces would still have the resources to police major events as the government on Monday announced cuts amounting to the "biggest peace-time cut in police funding in more than a century".
Related Internet Links
The BBC is not responsible for the content of external sites.