7/7 doctor 'electrocuted' earlier on London Underground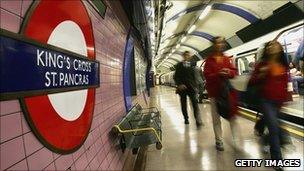 A doctor who entered the London Underground after the 7/7 bombings had an electric shock at the same station eight days earlier, an inquest heard.
Dr Roderick Mackenzie was in charge of the medical response to the suicide bomb blast.
He said that when he arrived at King's Cross station he had "no real understanding" about the incident and was "working blind".
Germaine Lindsay killed 26 people with a bomb on the Tube on 7 July 2005.
His suicide attack, on a southbound Piccadilly Line train between King's Cross and Russell Square, was the most deadly of four co-ordinated attacks on the London transport network which killed 52 people.
The inquests at the Royal Courts of Justice heard that emergency service commanders on the surface at King's Cross still did not know how many people were killed or injured, nor exactly where the attack took place, more than an hour afterwards.
Because of this, Dr Mackenzie descended into the Tube tunnel beneath King's Cross to see what had happened so he could report back.
The inquest heard this was only a short time after he was injured while responding to another incident on the underground.
"I was electrocuted under a train on the Piccadilly Line on June 29, roughly 25 minutes after the traction current had been confirmed as off, in the process of rescuing an injured person," he said.
"That incident really emphasises the danger that is faced by emergency services personnel working on the underground system in general.
"The current was in that incident re-energised and myself and a paramedic were electrocuted."
Dr Mackenzie was seconded to London's Helicopter Emergency Medical Service (Hems) in 2005.
He said he arrived at King's Cross on 7 July with very little knowledge about what had happened, and sent a fellow Hems doctor and a paramedic underground while he tried to find out more from the other emergency services.
"It became very clear very quickly that there was no information," he said.
"There was no real understanding about the nature of this incident or the number or type of casualties, or indeed of its physical location.
"And I had no information back at all either from the ambulance crews who had deployed, or indeed I had never seen the fire service return, and my own team had not returned.
"I was working blind, as it were."
Related Internet Links
The BBC is not responsible for the content of external sites.