Newspaper review: Papers trace suicide bomb trail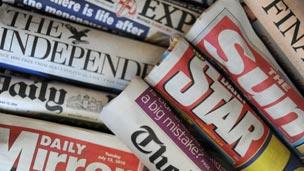 "The vast majority of regular worshippers" at the bomber's mosque wanted nothing to do with "his ravings", and threw him out, it says.
The paper wants to know why UK colleges have become what it calls a "nursery for terror".
Lord Howard argues that prison does deter criminals and that it protects the public while offenders are inside.
He is offended by the way Mr Clarke dismisses his critics and concludes that the home secretary is "wrong about everything, especially crime".
It says that snow may bring havoc, but "who could deny that a carpet of white on the back lawn is a perfect accompaniment to Christmas lunch?"
Related Internet Links
The BBC is not responsible for the content of external sites.