Newspaper review: Papers trace suicide bomb trail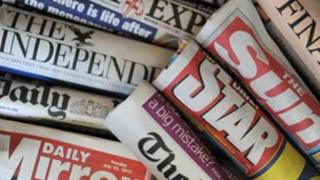 The Daily Express takes one look at the suicide bombing in Sweden and concludes that "once again, all Islamist roads lead back to Britain".
And not just Britain, as the Daily Telegraph points out, but Luton.
The Independent is one of the papers to explore how "Luton became the epicentre of the global clash of civilizations".
The Times suggests industrial decline left a "combustible atmosphere, racial tensions, high unemployment and the highest crime rate in the region".
Bomber's 'ravings'
The Sun finds some "positive side" to the suicide bombing in Sweden.
"The vast majority of regular worshippers" at the bomber's mosque wanted nothing to do with "his ravings", and threw him out, it says.
But the Daily Mail calculates that about 30 Muslim graduates from British universities have been involved in terrorist outrages.
The paper wants to know why UK colleges have become what it calls a "nursery for terror".
Prison debate
Writing in the Times, former Tory leader Lord Howard describes Ken Clarke's proposals for the criminal justice system as "fatally flawed".
Lord Howard argues that prison does deter criminals and that it protects the public while offenders are inside.
Stephen Pollard of the Daily Express is even more critical.
He is offended by the way Mr Clarke dismisses his critics and concludes that the home secretary is "wrong about everything, especially crime".
Bright side
The Daily Mirror tells us that a white Christmas is "now almost certain".
There is talk in the Daily Telegraph of "biting winds", and in the Daily Mail of bitter cold.
The Sun adds another cause for anxiety - "strike misery on the trains." But the Daily Express is determined to look on the bright side.
It says that snow may bring havoc, but "who could deny that a carpet of white on the back lawn is a perfect accompaniment to Christmas lunch?"