Independent Living Fund loss 'will have a huge impact'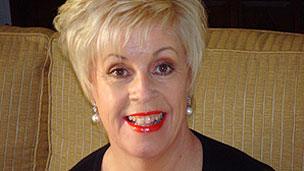 "It will have a huge impact, yes. It's really helped me greatly to be more independent."
Mandy Kiddell, 48, from Middlesbrough, is very grateful for the Independent Living Fund payments she gets each month.
The fund, financed by the Department of Work and Pensions, pays out on average just over £300 a week to 21,000 people.
Its aim is to allow severely disabled people to pay for help so they can live independently.
Mrs Kiddell has short upper limbs and has been struggling with her health, and the money helps her pay for help around the house and with everyday tasks.
But the government has just announced that the fund is closing permanently to new applications.
And it is to be phased out by the end of this Parliament in 2015, following a consultation on how best to continue supporting its existing users.
The news has left Mrs Kiddell, and thousands like her, "very anxious", she says.
Mrs Kiddell has been unable to work because of poor health since 1997. She lives with her husband, who is retired, and has been getting help from the fund for four or five years.
She gets about £200 a month, and uses it to pay her sister £7 an hour for several hours a week help with household tasks such as shopping, cleaning and cooking.
"It does help," she says. "There are certain tasks I can't do. Without it I would have to pay for that help from my own pocket... I can't really live without it.
"It's going to change a lot of people's lives.
"There's people who have worse disabilities than me who are dependent on the funding, it's going to have a massive, massive impact on them."
She added: "The hardest thing to overcome is change.
"You get used to doing things in a certain way, you have a life, you're quite happy and it works out for you, then it changes... you are anxious, you're going to be worrying about when it's finishing and that sort of thing."
The government says it will protect existing payments of the fund throughout this Parliament.
And it says local authorities will still have a statutory responsibility to provide social care support to their residents.
Next year, it says, following a report by the Commission on the Funding of Care and Support, it will consult on how best to continue to support users of the fund.
This will be within a care system "based on the principles of personalised budgets, the findings of the commission and recognising the importance of the support that ILF users have built their lives around".
But it says the model of a fund as an independent discretionary trust delivering social care is "financially unsustainable".
BBC News age and disability correspondent Geoff Adams-Spink said the fund had been something of a safety-valve for local authorities faced with supporting severely disabled people, as it picked up the extra cost of care over and above a certain limit.
"Removing the ILF will leave already cash-strapped local authorities even worse off - and they in turn will be looking at ways of cutting back on the support that they provide for disabled people with very high support needs," he said.
And given previous funding battles with the authorities, Mrs Kiddell is worried her council would not be able to step in.
However, she says, "I'm a fighter. I've been fighting all my life, and I'll cross that bridge when I come to it."
Related Internet Links
The BBC is not responsible for the content of external sites.