Non-native species cost 'British economy £1.7bn'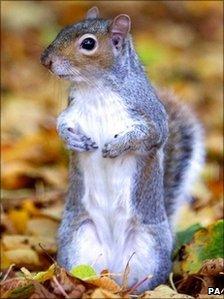 Invasive non-native species such as the grey squirrel and Japanese knotweed cost the British economy £1.7bn a year, a report has suggested.
Researchers said crops, ecosystems and livelihoods could be damaged when such species took hold.
The study found that the rabbit was the most economically damaging species, followed by Japanese knotweed.
The research was conducted for Defra, the Scottish government and the Welsh Assembly Government.
The cost was significantly higher at £1.3bn in England where invasive non-native species have become more established.
The price was put at £251m in Scotland and £133m in Wales.
The cost to British agriculture and horticulture was £1bn alone, according to the research carried out by international scientific organisation Cabi.
Other damaging species included the rat, the house mouse and the mink, and plants such as the rhododendron and giant hogweed.
Defra Minister Richard Benyon said: "Invasive non-native species have a significant impact on the British economy and damage our own wildlife.
"The costs of controlling these species will rise unless society takes steps to prevent them taking hold and spreading."
He added: "It becomes increasingly difficult and costly to control invasive non-native species as they become more established.
"Taking early action may seem expensive, but this report shows that it is the most effective approach, saving money in the long run and helping our native wildlife to thrive."
Scottish Environment Minister Roseanna Cunningham said: "We all know about the serious threat to our native wildlife from invasive non-native species, and this report confirms the huge cost to businesses and individuals in Great Britain every year."
Welsh Environment Minister Jane Davidson said the assembly government was "committed to protecting and enhancing our biodiversity and to understanding its relationship with, and impact on, our economy".
Related Internet Links
The BBC is not responsible for the content of external sites.