Newspaper review: Papers focus on Assange in court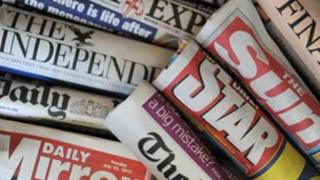 The Guardian and the Independent lead with the latest court appearance of Wikileaks founder Julian Assange.
The Guardian describes the decision to grant him bail as a small but significant victory for the Australian.
The Independent carries an interview with the man who will put up Mr Assange in the UK as his house guests if he is released from prison after an appeal.
Mr Assange would have to observe a curfew at Vaughan Smith's address in Suffolk as part of his conditions.
Diplomat tribute
Many of the papers give their assessment of veteran US diplomat Richard Holbrooke who died on Monday.
The Guardian says that while he was not the most universally beloved, he was one of the ablest, most admired and most effective of American diplomats.
The Times says he was an "ebullient colossus" who was responsible for saving the lives of untold thousands.
This is a reference to his role as chief negotiator of the Dayton Agreement, which ended the Bosnian War.
Inflation concerns
A number of papers highlight what they see as a growing cabinet rift with Justice Secretary Ken Clarke.
The Daily Express says Mr Clarke is facing the axe in January after a stinging rebuke from Home Secretary Theresa May over his prisons policy.
The Bank of England is under fire for its approach to inflation.
According to the Financial Times, economists have begun to question the Bank's assurances that inflation will soon be under control.
Cup controversy
The Daily Mirror is among the papers to report the latest gaffe by the head of world football, Sepp Blatter.
The Fifa president joked that gay football fans should refrain from sex during the 2022 World Cup in Qatar, where homosexuality is illegal.
The Mirror quotes the Gay Football Supporters Network as saying that he "is simply not getting the issue".
The Guardian says campaign groups are demanding that Mr Blatter apologise or stand down immediately.