Newspaper review: Papers focus on Assange in court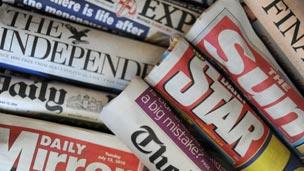 The Guardian and the Independent lead with the latest court appearance of Wikileaks founder Julian Assange.
Mr Assange would have to observe a curfew at Vaughan Smith's address in Suffolk as part of his conditions.
Many of the papers give their assessment of veteran US diplomat Richard Holbrooke who died on Monday.
This is a reference to his role as chief negotiator of the Dayton Agreement, which ended the Bosnian War.
A number of papers highlight what they see as a growing cabinet rift with Justice Secretary Ken Clarke.
The Bank of England is under fire for its approach to inflation.
The Fifa president joked that gay football fans should refrain from sex during the 2022 World Cup in Qatar, where homosexuality is illegal.
The Mirror quotes the Gay Football Supporters Network as saying that he "is simply not getting the issue".
Related Internet Links
The BBC is not responsible for the content of external sites.