Terror suspect Abid Naseer wanted by US authorities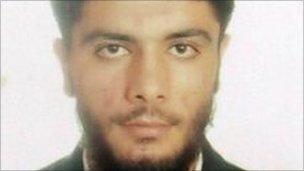 A terror suspect living in Manchester was part of an al-Qaeda plot to launch co-ordinated international bombings, US Justice Department lawyers have said.
The lawyers are seeking to extradite Abid Naseer to the US to stand trial over alleged plots to plant bombs in Manchester, New York and Norway.
Mr Naseer carried out reconnaisance and bought material for bombs, David Perry QC told Westminster Magistrates' Court.
The 24-year-old, who came from Pakistan on a student visa, denies the charges.
However, the court heard allegations he was targeting Manchester city centre, "most likely in the vicinity of St Ann's Square or the Arndale Shopping Centre".
"The defendant and his co-conspirators based in the UK conducted reconnaissance at potential target locations and transported reconnaissance photographs back and forth to Pakistan," said Mr Perry.
Mr Naseer had also "purchased ingredients and components necessary for the preparation of explosive devices and maintained frequent contact with the al-Qaeda leadership", the court heard.
Mr Perry said the alleged plot was a "wide, international conspiracy conceived by al-Qaeda", for which Mr Naseer was the organisation's UK "point of contact".
Mr Naseer was among a group of 10 Pakistanis arrested in April 2009 on suspicion of plotting a terror attack in the UK but nobody was charged.
Following his arrest, the Home Office failed in a bid to deport Mr Naseer to Pakistan because a judge ruled his safety could not be guaranteed if he returned to Pakistan.
US authorities now want him to face trial for the role they claim he played in the alleged conspiracy to blow up targets in the three countries.
Mr Naseer is alleged to have been in Pakistan between September and November 2008, during which time he was in contact with UK-based associate Tariq Ur Rehman.
"Rehman assisted him in the specific preparations for the attack in Manchester and the defendant also made contact with the user of al-Qaeda operational e-mail accounts known only as Ahmad," said Mr Perry.
Mr Naseer had kept Ahmad abreast of progress on the Manchester bomb plot by e-mail, using code, after his return to the UK, Mr Perry said.
"Ahmad acted as a facilitator, and using code, Ahmad communicated with other operatives based in Norway and the US who were planning to carry out similar attacks during broadly the same period," he said.
Edward Fitzgerald QC, for Mr Naseer, told the court extradition would breach his client's human rights as no assurances had been given he would not be subject to rendition by the US authorities.
"With the proven history of rendition by the US to torture regimes, we are concerned that that would happen in this case," he said.
Mr Naseer's defence has previously cited fears about conditions in "super max" prisons in the US.
District Judge Quentin Purdy earlier rejected an application for an adjournment of the hearing after Mr Fitzgerald said a request had been entered for the trial to be held in this country.
He said he would give judgement on whether or not Naseer should be extradited on January 21 next year.