Lord Chief Justice wants debate on Twitter use in court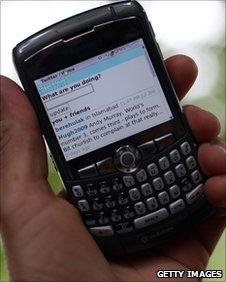 The Lord Chief Justice says he will be seeking the input of the media on the question of whether tweeting from court should be allowed.
Lord Judge spoke after journalists at the bail hearing of Wikileaks founder Julian Assange gave live updates via Twitter.
He said it was very important to work out how to deal with the issue.
Recording sound or images during a court hearing is illegal, but sending electronic communications is not.
Tweets, e-mails and text messages are all technically permissible, but use of Twitter in court is more contentious because it is a form of public broadcasting and potentially readable by anyone.
At City of Westminster Magistrates' Court on Tuesday, one of the journalists arriving for Mr Assange's case asked District Judge Howard Riddle's permission to tweet.
He said he had no objection and several reporters then proceeded to give regular updates as the hearing unfolded.
Giving evidence to the Lords Constitution Committee on Wednesday, Lord Judge - who is head of the judiciary in England and Wales - asked rhetorically why someone shouldn't tweet responsibly from court.
He said he hoped to generate a discussion on that question, but stressed that he did feel there was a difference between tweeting during a hearing in front of a judge alone - as in Mr Assange's case - and tweeting during a jury trial.
Legal analyst Joshua Rozenberg told the BBC that tweeting from court had been "going on quietly and surreptitiously for quite some time".
"Only last month the Lord Chief Justice said he could find no statutory prohibition on it - it's not illegal," he said. "It's illegal to use a tape recorder to record sound in court, but it's not illegal to send communications from the court.
"What was different yesterday was that somebody asked for permission and the judge said he could see no objection.
"Judges can object if they wish and that would be contempt of court, but if they don't, it's lawful."
Mr Rosenberg said the widespread use of Twitter would make a difference to how journalists operated - and lead to more using laptops in court.
But he added: "It ought to be trained journalists, not just members of the public, because we in television, people in radio, people in the newspapers, people on websites, are reproducing those tweets and it's essential that those tweets should be accurate."
Related Internet Links
The BBC is not responsible for the content of external sites.