Drone attack 'kills two Britons' in Pakistan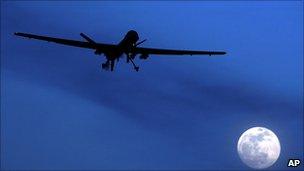 Two white British al-Qaeda members have died in a suspected US drone raid in north-west Pakistan, officials say.
The Muslim converts were killed in a missile attack near the town of Datta Khel in North Waziristan region five days ago, the local officials said.
The men, said to be aged 48 and 25, were apparently in a vehicle with two other militants at the time.
The Foreign Office said the British High Commission in Pakistan was seeking further information.
The pair were using the pseudonyms Abu Bakr and Mansoor Ahmed, officials say.
Local people say that the car the militants were travelling in was destroyed and whoever was inside was incinerated. They say that what little remained of the bodies was taken away by the militants.
According to local administration officials, the drone strike took place on 10 December. Three missiles were fired at a vehicle near the village of Khaderkhel in the Data Khel area and four people were killed.
Officials told the BBC that the surnames of the British pair were Stephen and Dearsmith.
The official said that Mr Stephen had been giving training sessions on weapons and tactics in various Taliban camps in the region.
He said that Mr Stephen is believed to an al-Qaeda operative with "a previous history of operations with the organisation in Afghanistan".
This is not the first time that reports of Muslim converts from Europe fighting for militant groups in the Afghanistan-Pakistan area have emerged.
In November The Guardian newspaper in the UK reported that a minicab driver from London and another man from the UK fought for the Taliban in Afghanistan during the "fighting season".
BBC correspondent Aleem Maqbool in Islamabad said the deaths happened in an area considered to be a haven for hundreds if not thousands of Taliban and al-Qaeda militants.
Our correspondent adds that it is notoriously difficult to verify what happens in airstrikes as the tribal areas are mainly out of bounds for journalists.
He says that if the deaths are confirmed, it would be worrying for the British authorities that its own citizens may be involved in fighting coalition forces.
In September, a British terror suspect was killed in a drone attack in north-west Pakistan.
The BBC was told Abdul Jabbar was being groomed to head an al-Qaeda splinter group in the UK.
According to BBC Newsnight, Jabbar was tasked with preparing Mumbai-style commando attacks against targets in Britain, France and Germany.
The US military does not routinely confirm drone operations, but analysts say it is the only force capable of deploying such unmanned, remotely piloted aircraft in the region.
Pakistan publicly objects to the strikes, but analysts believe such raids have the private backing of officials.
Related Internet Links
The BBC is not responsible for the content of external sites.