Newspaper review: Papers reflect on refugee tragedy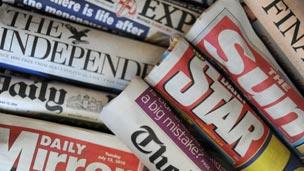 There are dramatic photographs on the front pages of the crowded refugee boat that was driven onto rocks off Australia's Christmas Island.
At least 27 people drowned but the authorities have warned that more bodies are likely to be found.
"Asylum gets even softer" the front page declares of the coalition's plans.
It argues that in some circumstances detention is the only effective way of stopping "whole families of bogus asylum applicants from absconding".
Sweden wants to extradite Mr Assange over allegations of sexual assault.
Mr Assange was granted bail on Tuesday, but he has been kept in prison in London pending an appeal.
The Swedish prosecutor's office has told the paper: "We have not got a view at all on bail".
The papers are preparing their readers for another freezing snap - with bitterly cold winds from the Arctic expected.
Related Internet Links
The BBC is not responsible for the content of external sites.