Heating oil prices: Your stories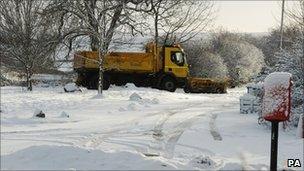 Speaking in the Commons, he said higher demand, coupled with restricted deliveries and soaring oil prices, meant many homes were already having to wait up to four weeks for supplies.
BBC News website readers who rely on domestic heating oil in their homes have been telling us their stories.
I have managed to place an order for domestic heating oil which runs both my central heating and hot water. Every company I have tried is telling me that they can't guarantee delivery before Christmas.
I'm down to my last few inches of oil in the tank at the moment so can't survive without the delivery.
This is outrageous. I have a six-month-old baby - how can I have no heating in this weather? I've asked if they can make me a priority but they've got elderly people as well, so almost everyone is a priority.
Last week it dropped to -21 in the village next to mine. That means frozen pipes and frozen waste pipes.
Electric heaters won't be enough to heat the house if the oil runs out. If it runs out it's not as simple as just topping it up - I'd need to get an engineer out to repressurise the system.
I'm a working mum so I don't have a lot of time spare.
My local church is in the middle of the West End of Glasgow and the pavements are still like ice rinks round here.
We've been unable to get more than half a delivery since last Monday afternoon.
We've got the candlelit service and nativity play on Sunday and we're worried about putting the heating on for that in case we run out and don't get a delivery. If there's no heating then the pipes freeze and burst and then we get flooding.
We've kept our electrical water pumps running to keep the water moving so it doesn't freeze but the feed pipes froze last Monday morning.
The roads around here aren't being treated as a priority as they are urban residential. It means cars are everywhere and we can't get a proper tanker in.
If we get a delivery it'll be a small pick-up, big enough just to fill up our tank.
On Friday I was quoted 73p per litre, back in September we paid 43p per litre. We're praying we can survive until prices are sane again. When we first had heating oil, eight years ago, it was 17p per litre.
I am registered disabled, suffering from rheumatoid arthritis and have four children aged between three and 13.
I have to heat my house, and with no mains gas in my village, I am at the mercy of the heating oil companies.
If I can wait 20 days then I can get it at 64p per litre in mid-January. If I wanted an express delivery within five days guaranteed for Christmas Eve, I'd be paying 99p per litre. Normally you get it within five days anyway. Last January I was paying 33p per litre.
It seems they are using the cold snap to make a quick buck.
I expected a few pence rise in winter, you always do, but nobody foresees a 50% hike. Why are the heating oil companies allowed to put up their prices with no regulation?
The company which supplies me is very good so I'm not worried about running out at the moment. What I am worried about is the rising cost of heating oil.
A full tank is 1,000 litres so with the 5% fuel tax, you're looking at £795 to fill up.
Most companies expect you to pay within seven days of delivery. The one I'm with is pretty good and I pay some money per month. But others expect you to pay it all by credit card.
When I checked the balance in November I thought I'd have enough credit to see us through December and January, but now I'm not sure. At the rate we're going, we're going to end up owing them money.
To be honest I don't dare ring to find out how much it'll cost. A local man was quoted 90p a litre last week.