Retracted rape case woman speaks of ordeal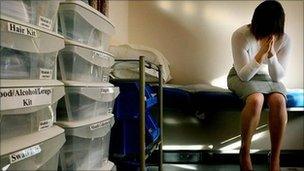 A mother prosecuted for withdrawing an allegation that her husband had raped her has described how she became hysterical when she was sent to prison.
The 28-year-old told BBC Radio 5 live's Victoria Derbyshire it was hard to swallow that she had a criminal record while a potentially dangerous man had escaped conviction.
In November, "Sarah" was jailed not because the allegation was false - police believe she was raped - but because her retraction was false.
She said she reacted with "shock and disbelief" when she was sentenced, as her legal team and the police had believed she would be given either a community or a suspended sentence.
"When given an eight month sentence, I was stunned, to put it mildly, and it didn't hit me until I was halfway down those steps, going down to the cells, and I was pretty hysterical," she said.
Her husband, "Ray", had been charged with six counts of rape in November 2009 by Dyfed-Powys police.
After three weeks on remand he was bailed, but broke his conditions by contacting her.
But she said no official action was taken when she told police, his solicitor just phoned him to tell him "don't do it again".
"Which I find quite shocking to be honest. And this is what upsets me, that if he'd been arrested then, that I might have found the strength and the courage then to carry on with the case," she said.
She says now she is stronger, she realises he gradually pressured her into dropping the charges.
"Because he had filled me with such guilt he sucked me back in, even though I knew what he had done was wrong. He'd almost reversed it and made me feel guilty for dialling 999.
"There was strong evidence against him and we both knew it - and he was looking at a long time in prison. He'd say when he'd get out the children wouldn't know who he is, and things like that."
In January, she told police she wanted to drop charges. But police and Crown Prosecution Service said they would continue without her as it was such a watertight case.
She said Ray and his sister increased the pressure they were putting on her, persuading her to retract the allegations.
"At the time, because I was such an emotional mess because of what I'd been through, and at that point I'd not had enough emotional support to get me through such a horrible ordeal," she said.
The police said they did not believe that she had made up the rape allegation. But they had to drop the case because she was no longer seen to be a credible witness.
Instead she was charged and jailed.
She was freed on appeal after 18 days by the Lord Chief Justice who said justice system had a duty to show compassion to a woman who had already been victimised.
She said she was "ecstatic to be freed".
"I was crying but they were real joyous tears, that I was finally going home. That journey home from prison was a big 'pinch me moment'."
But while her conviction stands, Ray is an innocent man.
"That's the horrible thing, that I have a criminal record and after what he did to me, there's nothing on him at all. That's pretty hard to swallow.
"Barristers are trying to get criminal conviction quashed as think they think it's infringing my human rights as I have a criminal record and he has nothing."
Sarah is now trying to get children back from her husband, through the family courts.
She said she did not know why the CPS had gone ahead with prosecuting her.
"The police officers said if was up to them they would not charge me as they knew the allegation was true, but it wasn't in their hands."
The Director of Public Prosecutions Keir Starmer has since issued guidance saying prosecutors should treat "very carefully" such cases.
Sarah said she was "over the moon, to be honest, that my horrible experience is going to change it for others".
Police and the CPS say they may reopen the rape case, and Sarah says she would give evidence if this happened.
But she says she feels responsible for the fact that he is not in jail.
"I do wish I had been stronger. I do feel immensely guilty, and the fact it may allow him to strike again."
Related Internet Links
The BBC is not responsible for the content of external sites.