7/7 rookie Pc 'did not hesitate to help'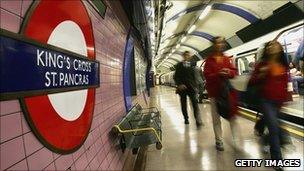 A policewoman with five weeks' service has said she did not think twice about entering a tunnel at Russell Square Tube station where 26 people died.
Pc Helen Skeggs had been preparing to patrol Hampstead's streets on 7 July 2005 when a bomb was detonated on the Piccadilly Line train.
She and other young constables were taken to the London station, full of walking wounded crying for help.
"It was more like a scene from a film," she told the inquests into the deaths.
"There were walking wounded everywhere, lots of blood everywhere and lots of people crying for help."
Before heading into the tunnel, a senior officer briefed his young officers that it was believed to be a terrorist incident and gave them the choice of whether to help.
"We all obviously said that we wanted to go down," Pc Skeggs said.
She then told the inquest cries could be heard coming the Tube and smoke was coming out of the tunnel entrance.
Germaine Lindsay killed 26 people with a bomb he detonated as the packed Tube train pulled out of King's Cross station, on its way to Russell Square.
Witnesses also told the inquests how the injured would have been moved more quickly from the site of one of the explosions if there had been enough stretchers available.
There was only one proper stretcher at Russell Square, the inquest heard.
Pc Gary Whelan said that in the words of one of his colleagues they "cobbled together" makeshift ones using the discarded jackets of the injured and the dying which were strewn around the floor.
But several survivors ended up being carried over rescuers' shoulders, he added.
The inquest continues on Monday.
Related Internet Links
The BBC is not responsible for the content of external sites.