Snow and ice fill the newspapers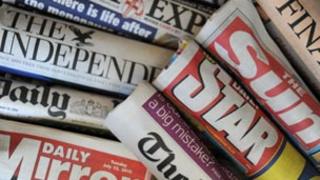 There is a chilly theme to most of the front page headlines.
"White out", "Arctic freeze to last a month" and "Snow puts brakes on Christmas getaway" are just a selection.
Several papers highlight concern that NHS blood supplies are running short.
The Times explains that the cold weather has prompted a surge in patients admitted to accident and emergency, while freezing roads and heavy snow have prevented people from donating blood.
Bankers' bonuses
"Price Freeze" is the main story in the Daily Mirror, which goes on to say that desperate shops are cutting prices by up to three-quarters because of the weather.
It says High Street shops are worried people will stay at home on the busiest shopping weekend of the year.
The Financial Times leads with the warning by David Cameron that banks will face higher taxes if they continue to pay huge bonuses.
It says senior bankers are warning the sector is already being squeezed.
Tax protests
With shops preparing for their busiest weekend of the year, many of the papers report that the campaign group, UK Uncut, is planning more protests.
Activists are threatening to target retailers who they accuse of legally avoiding tax.
Chris Tobin, a member of UK Uncut, tells the Independent he wants to shame corporations into paying up.
The Daily Mail thinks some firms are "treating patriotic duty with contempt" through their tax avoidance.
NHS cuts
The Sun says a pair of children from south Wales have just become Britain's youngest parents at the age of 14.
The girl, pictured with her boyfriend and baby on the front of the paper, says was too embarrassed to tell her parents she was having sex.
The Daily Telegraph says NHS trusts are cutting back on surgery and scans in the quest to save money.
The Department of Health told the paper it wanted to see cuts in bureaucracy, not front-line care.