Snow and ice fill the newspapers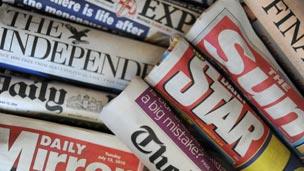 There is a chilly theme to most of the front page headlines.
"White out", "Arctic freeze to last a month" and "Snow puts brakes on Christmas getaway" are just a selection.
Several papers highlight concern that NHS blood supplies are running short.
It says High Street shops are worried people will stay at home on the busiest shopping weekend of the year.
It says senior bankers are warning the sector is already being squeezed.
With shops preparing for their busiest weekend of the year, many of the papers report that the campaign group, UK Uncut, is planning more protests.
Activists are threatening to target retailers who they accuse of legally avoiding tax.
The girl, pictured with her boyfriend and baby on the front of the paper, says was too embarrassed to tell her parents she was having sex.
The Department of Health told the paper it wanted to see cuts in bureaucracy, not front-line care.
Related Internet Links
The BBC is not responsible for the content of external sites.