Papers say UK slipping and sliding, not shopping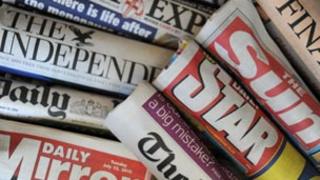 It was meant to be the weekend when people began the holiday getaway and bought all their Christmas presents, says the Independent on Sunday.
But in the event, concludes the Observer, it turned into a nightmare for much of England, Wales, Scotland and Northern Ireland.
It seems the weather will not improve with the Daily Star Sunday predicting freezing conditions all week.
The News of the World is also pessimistic about a quick thaw.
The Sunday Times reckons England may have its coldest night on record this week, with temperatures plummeting to below -26C.
Bullet-proof
Nick Clegg has been the focus of many of the tuition fee protests and officials have increased his security to protect him anarchists, says the Sunday Mirror.
It says he is using a £300,000 bullet- and bomb-proof Jaguar car.
The Sunday Telegraph says David Cameron is also looking after Mr Clegg.
It says the PM has told Tories not to undertake a major leafleting campaign before a by-election next month over fears the Lib Dems could do so badly.
Strictly politics
The Mail on Sunday concentrates on the state of relations between Nick Clegg and the Business Secretary Vince Cable.
It believes Mr Cable's decision to appear on the Christmas edition of Strictly Come Dancing has caused a rift with Mr Clegg.
Mr Clegg is said to think that photos of Mr Cable dancing on the programme jar with the mood of austerity.
But Mr Clegg's spokesman told the paper he always thought Mr Cable's appearance on the show was a great idea.
Snowman underpants
The Sunday Telegraph reports a senior RAF official's view that the defence review would leave the force with only slightly more squadrons than Belgium.
The paper says the comments by Air Vice-Marshal Greg Bagwell, in a trade journal, are among the most outspoken by any RAF commander.
Finally as the big freeze continues, the Sunday Mirror features a German man with the biggest snowman collection in the world.
Cornelius Graetz has 300,000 snowmen figures and other memorabilia.
As well as collecting figures, he has a snowman light bulbs, salt shakers and even snowman underpants.
Luckily for him, his obsession is shared by Frau Graetz.