Papers say UK slipping and sliding, not shopping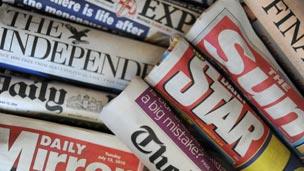 But in the event, concludes the Observer, it turned into a nightmare for much of England, Wales, Scotland and Northern Ireland.
Nick Clegg has been the focus of many of the tuition fee protests and officials have increased his security to protect him anarchists, says the Sunday Mirror.
It says he is using a £300,000 bullet- and bomb-proof Jaguar car.
It says the PM has told Tories not to undertake a major leafleting campaign before a by-election next month over fears the Lib Dems could do so badly.
It believes Mr Cable's decision to appear on the Christmas edition of Strictly Come Dancing has caused a rift with Mr Clegg.
Mr Clegg is said to think that photos of Mr Cable dancing on the programme jar with the mood of austerity.
But Mr Clegg's spokesman told the paper he always thought Mr Cable's appearance on the show was a great idea.
The paper says the comments by Air Vice-Marshal Greg Bagwell, in a trade journal, are among the most outspoken by any RAF commander.
Cornelius Graetz has 300,000 snowmen figures and other memorabilia.
As well as collecting figures, he has a snowman light bulbs, salt shakers and even snowman underpants.
Luckily for him, his obsession is shared by Frau Graetz.
Related Internet Links
The BBC is not responsible for the content of external sites.