Papers put focus on 'whitemare'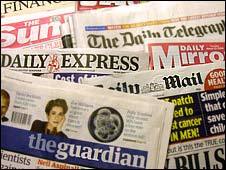 The continuing fallout from the snow fills the front pages yet again.
Under the headline "Retailers Battle to Make Up Lost Sales", it says shops are opening later to try to encourage Christmas shoppers to venture out.
The charity, SongBird Survival, says robins are most at risk because they find it difficult to maintain their body heat.
It says 80% of the UK's wren population was killed during a particularly cold winter in 1963.
A US diplomatic cable reveals a Yemeni official expressed concern about a lack of security at the country's main atomic energy facility.
It reports on a study which has identified hundreds of proteins crucial for a healthy brain.
Speculation is rife about who will be recognised in the Queen's New Year honours list.
Jordan in England requests a horse but warns Santa: "It cannot go down the chimney. It's impossible".
An Italian boy, called Patrik, advises him to land his sleigh in the neighbouring park, to avoid what he calls "bad landing conditions on the roof" that prevented him from bringing more presents the previous year.
Related Internet Links
The BBC is not responsible for the content of external sites.