Papers put focus on 'whitemare'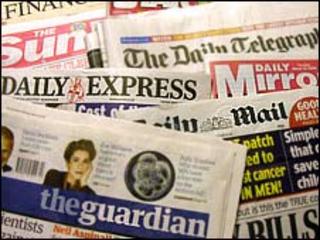 The continuing fallout from the snow fills the front pages yet again.
"Grounded" is the headline on the front of The Independent next to a picture of a barely-visible British Airways plane stuck at a wintry Heathrow airport.
Calling it a "Whitemare Before Christmas", The Sun quotes one traveller who compares Heathrow with a Third World refugee camp.
The Berlin correspondent of The Times accuses the airport's managers of "bringing Britain into disrepute".
The Financial Times focuses on the economic effects of the weather.
Under the headline "Retailers Battle to Make Up Lost Sales", it says shops are opening later to try to encourage Christmas shoppers to venture out.
The Daily Star predicts that this could be the coldest winter on record.
Threat to songbirds
The Daily Mirror warns the big freeze is a threat to Britain's songbirds.
The charity, SongBird Survival, says robins are most at risk because they find it difficult to maintain their body heat.
It says 80% of the UK's wren population was killed during a particularly cold winter in 1963.
A warning about terrorists getting hold of radioactive material in Yemen is published in the Guardian, courtesy of the Wikileaks website.
A US diplomatic cable reveals a Yemeni official expressed concern about a lack of security at the country's main atomic energy facility.
"Goldrush breakthrough for Alzheimer's" declares the Daily Mail.
It reports on a study which has identified hundreds of proteins crucial for a healthy brain.
New Year honours
Speculation is rife about who will be recognised in the Queen's New Year honours list.
The Telegraph says the smart money is on The X Factor's Simon Cowell because of his fund-raising efforts in Haiti.
The Daily Express peeks inside the postbag of the Norwegian postal service, which handles letters written to Santa by children around the world.
Jordan in England requests a horse but warns Santa: "It cannot go down the chimney. It's impossible".
An Italian boy, called Patrik, advises him to land his sleigh in the neighbouring park, to avoid what he calls "bad landing conditions on the roof" that prevented him from bringing more presents the previous year.